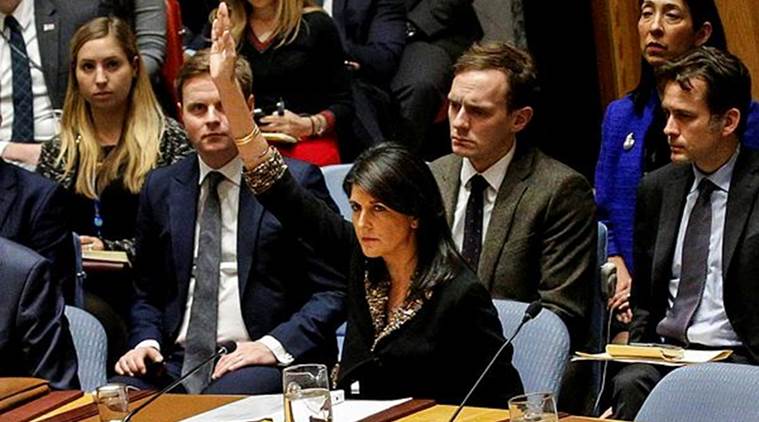 US vetoes UN resolution to withdraw Donald Trump's Jerusalem decision
The United States was further cornered on Monday over President Donald Trump's decision to recognise Israel's new capital Jerusalem when 14 other security council members backed the UN measure to withdraw US President's decision. The key US allies Britain, France, Italy, Japan an Ukraine were among the 14 countries in the 15-member counci voted in favour of Egyptian-drafted resolution that expressed "deep regret at recent decisions concerning the status of Jerusalem."
Casting the veto, US Ambassador Nikki Haley highlighted the country's isolation over Trump's announcement to shift the capital from Tel Aviv to Jerusalem. "The United States will not be told by any countr where we can put our embassy," Haley said "It was the first veto cast by the United States in the Security Council in more than six years," Haley said
"We do it with no joy, but we do it with no reluctance," she said. "The fact that this veto is being done in defense of American sovereignty and in defense of America's role in the Middle East peace process is not a source of embarrassment for us; it should be an embarrassment to the remainder of the Security Council.
"The United States has a sovereign right to determine where and whether we establish an embassy," Haley said. "I suspect very few member states would welcome Security Council pronouncements about their sovereign decisions.
The UN draft resolution affirmed "that any decisions and actions which purport to have altered the character, status or demographic composition of the Holy City of Jerusalem have no legal effect, are null and void and must be rescinded in compliance with relevant resolutions of the Security Council.
Both Israel and Palestine wants to take hold of Jerusalem. Israel wants all embassies based in Jerusalem, however, Palestinians wants holi city to be the capital of an indpendent state which Israel captured in a 1967 war. US Vice President Mike Pence will visit Jerusalem o Wednesday.
–Reuters inputs 
© IE Online Media Services Pvt Ltd