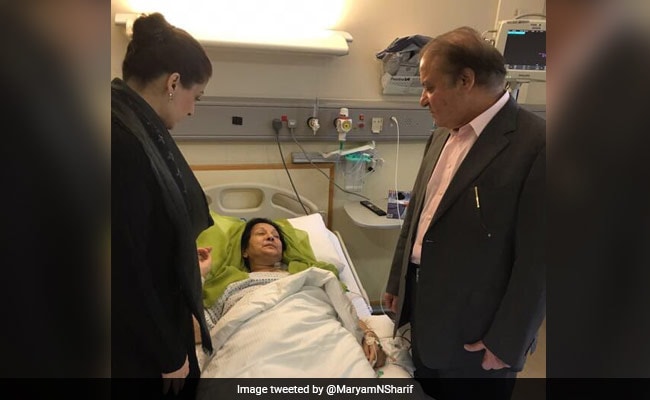 Nawaz Sharif's Wife Kulsoom Nawaz's Body Reaches Lahore, Funeral Tonight
Lahore:
A plane carrying the body of Kulsoom Nawaz, the wife of former Pakistan prime minister Nawaz Sharif, from London has reached Lahore, where she will be buried later today.
The body has been shifted to Jati Umra Lahore residence of the Sharif family for burial, Pakistan's Geo TV reported.
Kulsoom Nawaz died in a London hospital on Tuesday after a long battle with cancer. She was 68.
A Pakistan International Airlines' flight carrying the body landed at the Allama Iqbal International Airport in Lahore at around 6:45 am (local time) today.
Shehbaz Sharif, Kulsoom Nawaz's brother-in-law and president of the Pakistan Muslim League-Nawaz (PML-N), along with her daughter Asma, grandson Zayd Hussain Sharif (Hussain Nawaz's son), and 11 other family members accompanied the body.
Hassan and Hussain Nawaz, Begum Kulsoom's sons, did not return to Pakistan for their mother's funeral. Both have been declared absconders by an accountability court in corruption cases.
Kulsoom's funeral prayers will be held at the Sharif Medical City in Jati Umra neighbourhood at 5 pm (local time) today.
"Congregational prayers (Rasm-i-Qul) for her will be offered on Sunday between Asr (afternoon prayers) and Maghreb (evening prayers)," Pakistan Muslim League-Nawaz spokesperson Marriyum Aurangzeb told news agency PTI.
Nawaz Sharif, who is out on bail, was accompanied by his family to pay respects to Begum Kulsoom at Sharif Medical City. The family is currently meeting people in Jati Umra, who have come to pay homage to Begum Kulsoom.
Nawaz Sharif, his daughter Maryam and son-in-law Capt (retd) M Safdar, currently serving jail terms in the Adiala Jail in Rawalpindi after being convicted by an accountability court in a corruption case in July, have been released on parole to attend Kulsoom Nawaz's funeral.
Meanwhile, Pakistan's Punjab home department has issued a notification announcing an extension in the parole already awarded to Nawaz Sharif for additional five days - September 12 (4pm) to September 17 (4pm).
On Thursday, hundreds of people attended the funeral prayers of Begum Kulsoom at London's Regent Park mosque, which was separate from another one to take place in Lahore on Friday. They chanted slogans of 'we salute to the mother of democracy'.
The funeral prayers in London were attended by her sons Hassan and Hussain, brother-in-law Shehbaz Sharif, former ministers Chaudhry Nisar and Ishaq Dar among others.