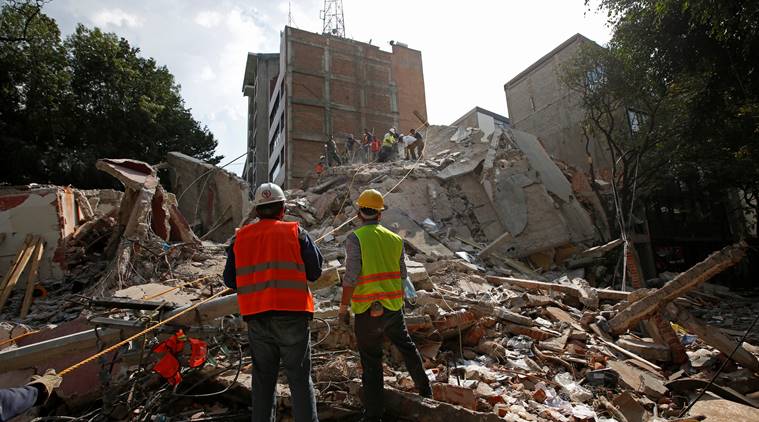 Mexico earthquake LIVE updates: At least 248 people killed in deadliest quake since 1985
At least 248 people were killed after an earthquake measuring 7.1 on the Richter scale struck Mexico on Tuesday. The quake came hours after the country participated in emergency drills to mark the 32nd anniversary of the 1985 tremblor that killed thousands. Several buildings collapsed, electricity supply was cut off and mobile networks were interrupted, sending waves of panic through the streets of the country's capital. The Mexican government has declared a state of disaster in Mexico City, reported news agency AP.
Many civilians assisted authorities in rescue operations, amid fears that the death toll will climb higher. Many people are feared trapped under the debris. The international airport in Mexico City has suspended operations.
Follow LIVE updates on the Mexico earthquake here:
11.42 am: Death toll rises to 248, reports Reuters.
11.32 am: The epicentre of the quake was near Puebla state town of Raboso, around 123 kilometres southeast of Mexico City, according to the US Geological Survey.
11.23 am: The toll has risen to 226. Luis Felipe Puente, the head of the nation's civil protection agency confirmed the toll in a post on Twitter. More than half the number is reported from the capital, according to AP.
11.19 am: The United Nations has offered assistance to Mexico following the quake. UN Secretary-General Antonio Guterres expressed sadness by the loss of life and destruction.
11.08 am: In Mexico City, 36 people have been reportedly killed. In the state of Mexico, at least nine people were killed, while 29 deaths were reported from Puebla. The highest death toll was in Morelos state, south of Mexico City, where 64 deaths were reported, Luis Felipe Puente the head of the nation's civil protection agency said, reported Reuters.
11.02 am: At least 21 children have been killed after an elementary school collapsed in Mexico City, a government official confirmed. "We have a report of 25 dead, among them 21 children and four adults," Mexican Undersecretary of Education Javier Trevino was quoted as saying by AFP. The school is Enrique Rebsamen Elementary School. 
10.53 am: US President Donald Trump on Tuesday took to Twitter to offer support to the people of Mexico. He said, "God bless the people of Mexico City. We are with you and will be there for you."
10.45 am: Mexican president Enrique Pena Nieto has appealed to people to remain calm in the aftermath of the earthquake. In a video message on Tuesday, he said, "The priority at this moment is to keep rescuing people who are still trapped and to give medical attention to the injured people."
(With inputs from agencies)
© IE Online Media Services Pvt Ltd