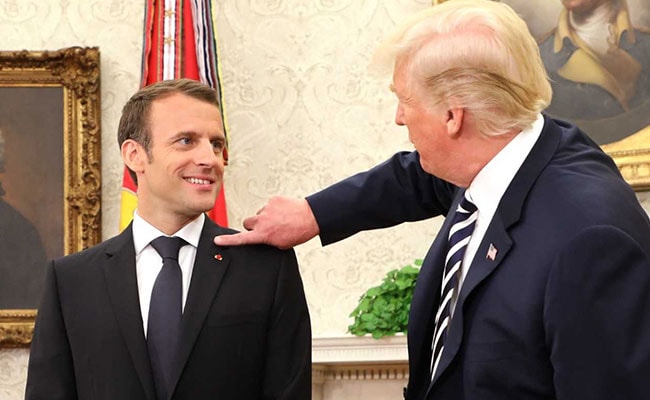 "Make France Great Again": Trump, After Visit, Slams President Macron
Washington/Paris:
U.S. President Donald Trump attacked his French counterpart on Tuesday in a series of tweets that underscored how much the once-friendly ties between the two leaders have soured, just two days after returning from Paris.
In five posts sent on the same day that French officials marked the anniversary of the 2015 terrorist attacks that killed 130 people in Paris, Trump blasted the key U.S. ally over its near defeat to Germany in two world wars, its wine industry and Macron's approval ratings.
Trump returned to Washington from a weekend in Paris to commemorate the 100th anniversary of World War One where strained relations between the American president and European allies was on full display.
On Tuesday, Trump cited Macron's "low approval rating" and unfair trade practices, and defended his absence from a commemoration event on Saturday saying the U.S. Secret Service had vetoed driving to the venue due to poor weather.
The problem is that Emmanuel suffers from a very low Approval Rating in France, 26%, and an unemployment rate of almost 10%. He was just trying to get onto another subject. By the way, there is no country more Nationalist than France, very proud people-and rightfully so!........

— Donald J. Trump (@realDonaldTrump) November 13, 2018
Trump pointed to Macron's recent comments about Europe's need to protect itself, writing that "it was Germany in World Wars One & Two - How did that work out for France? They were starting to learn German in Paris before the U.S. came along. Pay for NATO or not!"
"By the way, there is no country more Nationalist than France, very proud people-and rightfully so!" Trump wrote in a series of tweets, ending with "MAKE FRANCE GREAT AGAIN!"
Asked about Trump's tweets, a key adviser to Macron said the French president had briefed Trump and his chief of staff during the Paris trip to reassure them that "that France is not about to make a choice between a European defence system and a multilateral approaches."
(Except for the headline, this story has not been edited by NDTV staff and is published from a syndicated feed.)