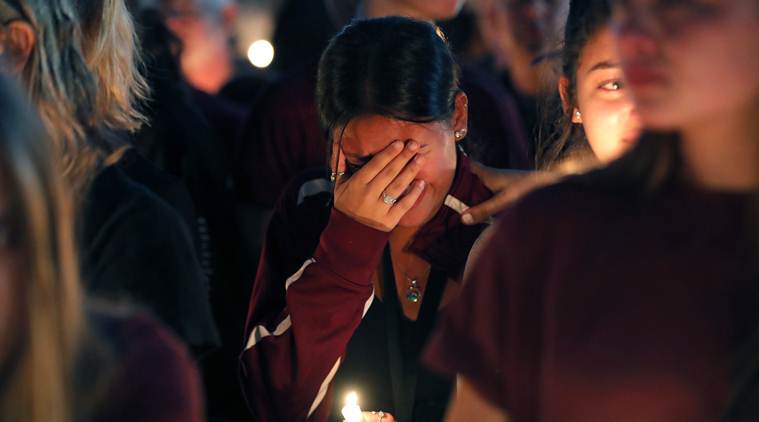 Florida shooting: All you need to know about 19-year-old Nicolas Cruz, who killed 17 people
Nicolas Cruz, the 19-year-old man accused of opening fire with an assault-style rifle at Marjory Stoneman Douglas High School in Florida, killing 17 people and injuring more than a dozen others on Wednesday, confessed to carrying out one of the nation's deadliest school shootings. Cruz was held without bond at a brief court hearing.
Accepting that he carried extra ammunition in his backpack, Cruz said he brought more loaded magazines to the school and kept them in the backpack until he got on campus. He said that he shot students in the hallways and on the grounds of the school, in Parkland, north of Miami, according to Reuters. Briefed by federal law enforcement officials, Florida's two US senators said that Cruz was wearing a gas mask as he entered the school. He was carrying a rifle, ammunition cartridges and smoke grenades. Before firing, he pulled a fire alarm, prompting students and staff to come out from their classrooms into hallways.
After firing for three minutes, Cruz ran out of the building and attempted to blend in with fleeing students. He then headed to a Wal-Mart and bought a drink at a Subway restaurant before walking to a McDonald's. He was taken into custody about 40 minutes after he left McDonald's.
A day after the attack, a fuller portrait emerged of Cruz, a loner who had worked at a dollar store, joined the school's ROTC program and posted photos of weapons on Instagram. At least one student said classmates joked that Cruz would "be the one to shoot up the school." Cruz's mother had died last year.
Cruz is a former student of the high school, who was expelled for unspecified disciplinary reasons. Police and former classmates said that Cruz was a troubled former student who loved guns and was expelled for disciplinary reasons. Students who knew Cruz described him as a volatile teenager whose strange behaviour had caused others to end friendships with him.
As a high school freshman, Cruz was part of the US military-sponsored Junior Reserve Officers' Training Corp program at the school, according to Jillian Davis, 19, a recent graduate and former fellow JROTC member at Stoneman Douglas High.
Cruz's court-appointed lawyer said he had expressed remorse for his crimes. "He's a broken human being," public defender Melisa McNeill told reporters. "He's sad, he's mournful, he's remorseful."
Cruz had recently moved in with another family after his mother's death in November, according to Jim Lewis, a lawyer representing the family, bringing his AR-15 along with his other belongings. The family believed Cruz was depressed, but attributed that to his mother's death, not mental illness, Lewis said.
(With inputs from Reuters)
© IE Online Media Services Pvt Ltd