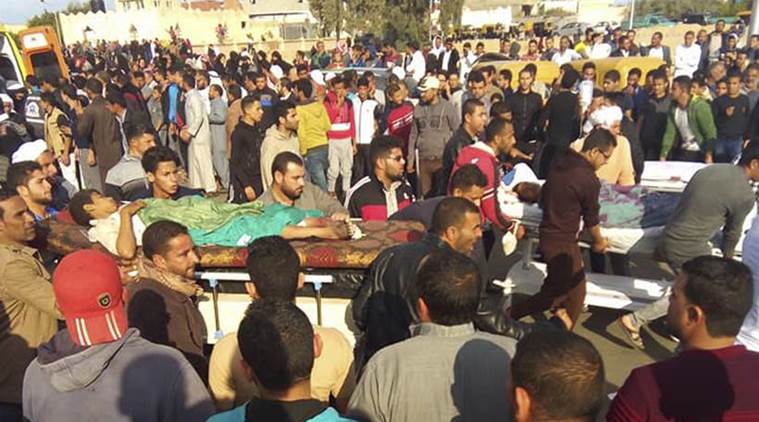 Egypt attack: World community extends support to Cairo after terror strike claims 305 lives
At least 305 people were killed and more than hundred wounded after militants attacked a mosque in Egypt's North Sinai area on Friday. The attackers detonated a bomb and gunned down worshippers in what is being termed as Egypt's deadliest attack in its modern history.
Worshippers were finishing Friday prayers at the Al Rawdah mosque in North Sinai's Bir al-Abed when the bomb exploded. Around 40 gunmen had set up positions outside the mosque with jeeps and opened fire from different directions as people tried to escape. No group has so far claimed responsibility for the attack.
Following the attack, Egyptian military reportedly launched air strikes on targets in mountainous areas around Bir al-Abed. READ MORE
ALSO SEE | Egypt attack: See what happened at the North Sinai mosque
Meanwhile, leaders from all over the world have condemned the dreadful attack.
ALSO READ | A look at the deadliest militant attacks in Egypt
Condemning the attack, Prime Minister Narendra Modi said that India resolutely supports the fight against all forms of terrorism and stands with the people as well as Government of Egypt.
US President Donald Trump also condemned the attack and said the international community cannot tolerate "barbaric terrorist" groups as he called his Egyptian counterpart Abdel Fattah al-Sisi to offer condolences. "The international community cannot tolerate barbaric terrorist groups and must strengthen its efforts to defeat terrorism and extremism in all its forms," the White House said after the phone call between the two leaders. READ MORE
Prime Minister Justin Trudeau, in a statement said, he was "shocked and horrified" by the terrorist attack and offered deepest condolences to the friends and families of the victims of the attack.
UK Prime Minister Theresa May said she was appalled by the sickening attack on a mosque in North Sinai. "Condolences with all those in Egypt affected by this evil and cowardly act," she said.
The UN Security Council, while condemning the "heinous and cowardly terrorist attack", underlined the need to bring perpetrators, organisers, financiers and sponsors of these "reprehensible acts of terrorism" to justice. It urged all states to cooperate actively with the government of Egypt and all other relevant authorities in this regard. Any acts of terrorism are criminal and unjustifiable, regardless of their motivation, wherever, whenever and by whomsoever committed, the Security Council said.
With inputs from agencies
© IE Online Media Services Pvt Ltd