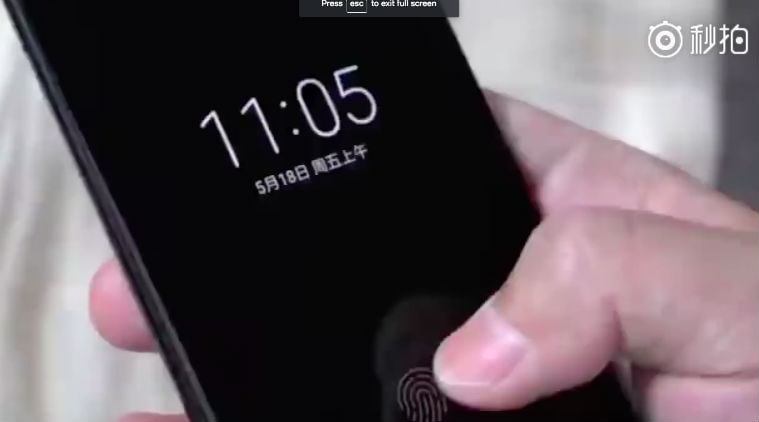 Xiaomi Mi 8 with in-display fingerprint sensor leaked in new hands-on video
Xiaomi will be hosting a product event in Shenzhen soon and it looks like the Mi 8 will be revealed at the annual event. Leaks claim to show the Mi 8 in a new video with the in-display fingerprint scanner working on the phone. A new hands-on video of the alleged Mi 8 being unlocked with the new display fingerprint feature has been shared in Chinese media.
The video, which was posted on Chinese portal Sina, shows a phone being unlocked and the UI is very similar to the Xiaomi MIUI. The three second clip is dated May 18, and this is one of the newer leaks giving an indication of what the new Xiaomi Mi 8 will possibly look like when it launches. Xiaomi was expected to launch the Mi 7 smartphone, but it looks like the company will give it up in place of the Mi 8 smartphone.
According to leaks, the Mi 8 will sport the latest Qualcomm Snapdragon 845 processor with up to 8GB RAM. The Mi 8 will also have an iPhone X like 3D facial recognition feature, though what sort of hardware Xiaomi will use for the same remains to be seen. Most other players relying on facial recognition are driving it via software. Apple's iPhone X has an array of sensors for the Face ID feature.
Read more: Xiaomi to hold annual product launch event on May 31, Mi 8th Anniversary edition phone expected
The other highlight of the Xiaomi phone will be the in-display fingerprint scanner. The Honor 10 is a new phone that just launched with under-glass "Ultrasonic" fingerprint reader. Xiaomi had first introduced such a technology with the Mi 5s, but that phone was not sold outside of China. We will have to wait and see how the new in-display fingerprint scanner works on the Mi 8 smartphone.
Other rumours specifications of the Mi 8 are dual rear camera with 16MP+16MP configuration. It will run the latest Android Oreo with Xiaomi's MIUI as well. The MIUI 10 could also be unveiled at the upcoming event. Xiaomi's global product lead Donovan Sung had tweeted saying the company plans to launch more than one important product at the annual event in Shenzhen. Leaks claim the event will take place on May 31, and Xiaomi has already started selling tickets for the same in China. Xiaomi itself has not confirmed the date so far.
© IE Online Media Services Pvt Ltd