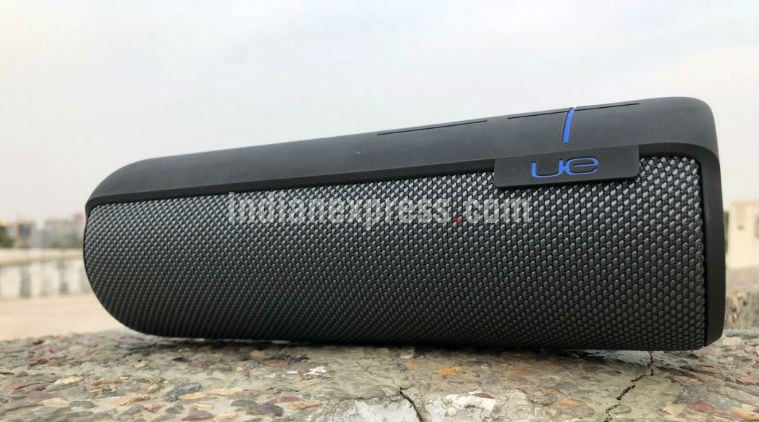 UE Boom 2 review: Great sound can now go underwater
The UE Boom has been one of the more popular Bluetooth speakers over the past year or so. That is quite an achievement, given that this is an increasingly crowded space with more companies coming in with better products every other day. This year, the UE Boom 2 is pushing its durability factor with IPX7 as well as Siri and Google Assistant integration.
UE Boom 2 price in India – Rs 15,999
UE Boom 2 review: Design
The UE Boom 2 looks just like its predecessor with a cylindrical design and a fabric plus rubber finish. One of the two ends houses the ports while the other has the power and pairing buttons. As is trademark UE, the volume buttons are loud and in your face up front. Everything is as uncomplicated as it can be. When it comes to design, the UE Boom 2 is a speaker you can take anywhere. Yeah, even under water if you are the kind who likes to listen to music during a swim. The IPX7 rating makes this both water and shockproof, which means you can now take your music anywhere.
UE Boom 2 review: Audio quality
When it comes to audio quality, the UE Boom was already among the best in its price range. With Boom 2, I felt it was a bit heavy on bass, but the music is rich. And it works for all genres and you will enjoy everything from Taylor Swift to Unnikrishnan's soft Carnatic vocals and even some Chopin and Vivaldi. However, I don't this is all that great for those who love loud music — by that I didn't mean the volume levels. For the hard rock and metal enthusiasts, I felt the shrill notes at the higher volumes might be a put off.
Still, the UE Boom 2 offers 360-degree sound that fills rooms as if you have a large speaker set somewhere. At no time do you feel as if the music is flowing out out of something as small as a loaf of bread. One extra feature with the Boom 2 is how it can now be controlled with voice. Once configured via the Boom app, this works both for iOS and Android. I tried to see if I could get this to work when connected to Mac, but no luck.
UE Boom 2 review: Conclusion 
The UE Boom 2 is among the best Bluetooth speakers you can now buy. Since it works well both indoors and outdoors, there is some extra value in buying this product. If you love your music wrapped in bass, you will love this even more. Go ahead, buy this one.
© IE Online Media Services Pvt Ltd