Technology
Sony Xperia 1 Mark II 5G, Xperia 10 Mark II launched, Xperia Pro will come later
Sony Xperia 1 Mark II is aimed at professional photography. (Image: Sony Xperia YouTube)
Sony today unveiled three new smartphones at an online event– Xperia 1 Mark II 5G, Xperia 10 Mark II, and Xperia Pro 5G smartphones. The flagship Xperia 1 Mark II Pro 5G is aimed at photography, the Xperia 10 Mark II is a mid-range device and the Xperia Pro 5G is aimed at professional videography.
The Xperia 1 and Xperia 10 will start shipping Spring onward in the US whereas the Xperia Pro is currently in development. The company has not announced the pricing of the devices and only shared the key specifications of the Xperia 1 Mark II, which features four Zeiss optics camera sensors at the back, Qualcomm Snapdragon 865 processor, and 4K OLED display.
Xperia 1 Mark II specifications
Sony highlighted the camera prowess of its new flagship smartphone Xperia 1 Mark II at the launch event. It said that it has put its award-winning alpha technology from its mirrorless DSLRs to the Xperia 1 Mark II smartphone and the device can click up to 20 frames per second with AF/AE. The phone packs three 12MP camera sensors — 16mm f/2.2 + 70mm f/2.4 + 24mm f/1.7 — with a 3D Time of Flight sensor.
Sony Xperia 1 Mark II has a quad-rear camera setup. (Image: Sony Xperia YouTube)
The Sony Xperia 1 Mark II 5G smartphone features a 6.5-inch 4K HDR OLED display with 21:9 aspect ratio. The company did not mention the refresh rate of the screen but said that its 'motion blur reduction technology' is equivalent to that of a 90Hz display. The phone comes with front-facing stereo speakers with Dolby Atmos support and the audio has been optimised by Sony Music's audio engineers. The phone also retains the 3.5mm audio jack.
Express Tech is now on Telegram. Click here to join our channel (@expresstechie) and stay updated with the latest tech news
The Sony Xperia 1 Mark II 5G is powered by the Qualcomm's latest Snapdragon 865 processor. The device is backed by a 4000mAh battery with support for wireless charging. Sony has not clarified on the fast charging capability of the device. The phone will be available in three colour models.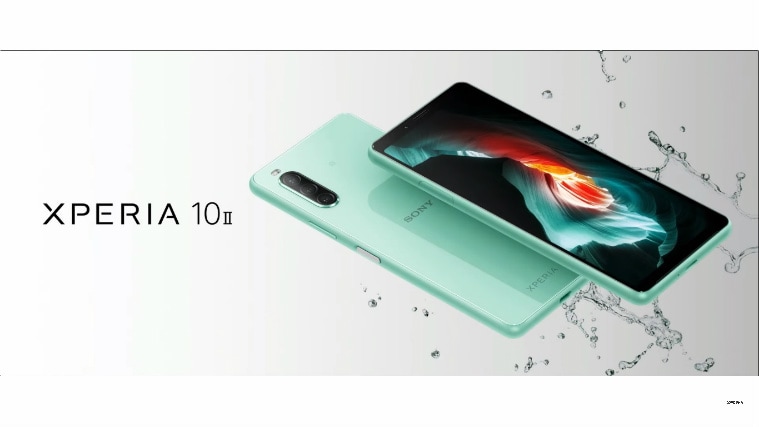 The Xperia 10 Mark II features a triple rear camera setup.
Sony Xperia 10 Mark II and Xperia Pro
Sony has not shared much about the other two Sony phones. The Xperia 10 Mark II is a mid-range that sports three camera sensors at the back. At the front, the device sports a 21:9 OLED panel.
It said that the Sony Xperia Pro is for a more "professional" use and highlighted how the upcoming device could ease the professional videography and photography experience. The Xperia Pro adds 50 mmWave support to the smartphone and comes with 360-degree antenna coverage and supports HDMI direct input to be connected to any digital camera.
© IE Online Media Services Pvt Ltd