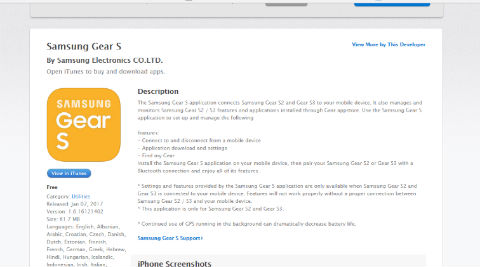 Samsung rolls out iPhone app for Gear smartwatches, Gear Fit 2
Samsung has rolled out iOS apps for its Gear smartwatches and Gear Fit 2, making the devices compatible with iPhone. The two new iOS apps work on Samsung Gear S2 and S3 smartwatches as well as the Gear Fit 2 fitness tracker. Up till now, Samsung Gear S2 and Gear S3 were only compatible with Android smartphones. But they'll now work with iPhone as well. Samsung had first announced that its wearable Gear devices will be compatible with iPhone, early last year.
The Gear S app needs to be downloaded and installed, post which you will see push notifications on your from your phone to the smartwatch. You can also sync fitness data via S health. The app manages and monitors Samsung Gear S2 and S3 applications installed through Gear App Store. In case of Gear Fit 2, the app allows you to sync fitness data via S Health and shows notifications on your device from iPhone.
Samsung Gear S3 Frontier and Gear S3 Classic were unveiled at IFA 2016 in September. According to reports, Samsung will be launching the Gear S3 series in India sometime in January 2017. Samsung Gear S3 series is the successor to Samsung's Gear S2 smartwatches, and brings forward the same circular design. The Gear S3 Classic has a minimalist design, while the Gear S3 Frontier features a rugged outdoor look, a bigger watch face and brighter bands.
Samsung's Gear S2 and Gear S2 Classic smartwatches were unveiled in India for Rs 24,300 and 25,800 respectively. The devic is powered by 1.0 GHz dual-core processor, coupled with 4GB of internal memory and 512MB RAM. It is backed by a 250mAh battery. The smartwatch features an in-built heart rate sensor and lets users access emails, notifications and messages.