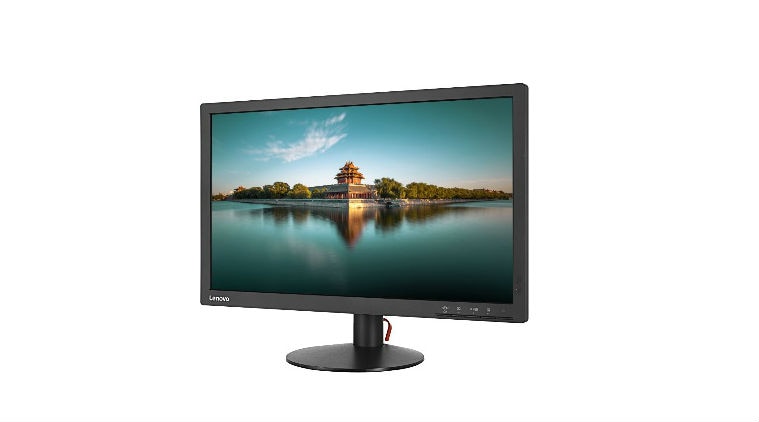 Lenovo ThinkVision T2224d review: Perfect for small businesses with small budgets
A PC monitor is still among the most basic requirements to get the job done, be it a work from home scenario or a proper office space. But the monitor is also most overlooked part of the workspace rig. You may have invested in a powerhouse desktop, but the monitor does not get that kind of attention to detail even though it is crucial to get the best out of your PC.
Although we associate Lenovo with the ThinkPad series of laptops, not many people are aware that the company also offers its ThinkVision monitors. The ThinkVision T2224d is its latest monitor designed to improve your workspace experience with a 21.5-inch LED display, an aesthetic design, and most importantly, an affordable price tag.
Lenovo ThinkVision T2224d price in India: Rs 8500 (excluding GST)
Lenovo ThinkVision T2224d review: Design and features
Given its low price, you might think the ThinkVision T2224d would have an understated design. However, it actually looks rather good. While its bezels are thick, the monitor looks fairly modern and syncs well with the office environment. Since the whole thing is matte black plastic, it does show dust and scratches quite easily.
Five physical buttons on the front adjust brightness or contrast and interact with the onscreen menus. As for connectivity, it's fairly basic. You get legacy VGA connection as well as DisplayPort, though there is no HDMI support. You won't find any USB ports on this monitor, nor are there any speakers.
The one issue which I faced while testing the monitor was that it offers very little in the way of adjustment. So, you can't change the height or pivot the panel. However, you can tilt the screen back and forward to get the best viewing angle.
Lenovo ThinkVision T2224d review: Display quality
The IPS screen has a Full HD 1,920x1080p resolution. It also has a 16:9 aspect ratio, a 1,000:1 native contrast ratio. The refresh rate of the screen is at 60Hz refresh rate, which is good enough for most applications. Viewing angles are also good, though I did notice the loss of colours while moving to the extreme side. Many of us like to spend hours in front a monitor, so it is important to choose a monitor that doesn't harm your eyes. The ThinkVision T2224d has a low blue light function, which can help protect the user's eyes. The monitor is good enough for consuming videos and even basic games like Solitaire — which might well be among the most used software in offices — look good on the 21.5-inch display.
Lenovo ThinkVision T2224d review: Conclusion
Lenovo ThinkVision T2224d is a value for money monitor for everyday use. The monitor seems perfect fit for a small office setup with an aim at fulfilling most basic needs such as browsing the web, multimedia consumption and office productivity. To sum it up, Lenovo ThinkVision T2224d is a business-ready monitor you can buy without stretching your budget.
© IE Online Media Services Pvt Ltd