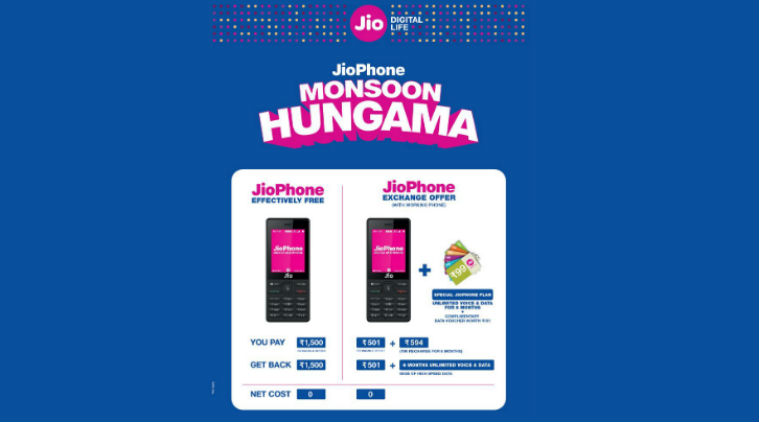 Jio Monsoon Hunagama offer: Jio Phone at Rs 501 on exchange, here are terms and conditions
Jio Phone exchange offer or Reliance Jio Monsoon Hungama offer previews on July 20, which is today. Under this offer, people can exchange their old feature phone for a new JioPhone for an effective price of Rs 501. JioPhone users can avail special recharge offers. The Rs 501 that users pay will be fully refundable after a period of three years, which makes the Jio Phone effectively free of cost. Jio Hungama offer was announced by Mukesh Ambani at the company's annual general meeting last month. Though the offer starts July 21, Jio has unveiled an early preview for users.
Jio Phone at Rs 501 on exchange: How to avail Jio Monsoon Hungama offer
Reliance JioPhone Rs 501 offer can be availed at offline retail stores on exchanging any old 2G/3G/4G (non-VOLTE) phone. The old phone must be in a working condition and the charger should also be there. It needs to be handed over to retailer in exchange of new JioPhone. Those who opt for the exchange offer will also get a new Jio SIM with JioPhone. Those who want to continue their existing number can opt for Mobile Number Portability (MNP). The Monsoon Hungama offer will be activated once MNP to Jio's network is complete.
Jio Phone at Rs 501 on exchange: Special recharge plan for JioPhone users
Reliance Jio has introduced a special JioPhone recharge plan under its Monsoon Hungama offer. JioPhone customers will have to recharge with Rs 594 at the time of activation to avail unlimited voice calls and data for six months. A special exchange bonus of 6GB data voucher worth Rs 101 has also been unveiled for JioPhone users. Do note that people who decide to get JioPhone win exchange will also need to get Rs 594 recharge done.
"There are currently 2 JioPhone plans available: Rs 49 and Rs 153. The Rs 49 plan is a kind of trial plan with 1 GB monthly data, whereas our highest selling plan Rs 153 provides 1.5 GB data/day. We realized that there are some users who may want lesser data and therefore must get the plan at a lower price. Hence we are introducing Rs 99 with unlimited free voice, 0.5GB data/day and 300 SMS for 28 days. This will reduce the monthly spends straight away by nearly 50 per cent," said a Jio spokesperson.
Jio Phone at Rs 501 on exchange: How to check of old phone is eligible for exchange
Those interested in the Monsoon Hungama offer must make sure that their old mobile phone is in working condition without any damage/missing parts or broken/burnt parts. Feature phones that were sold in the last three and a half years or January 1 2015 onwards will be eligible for exchange. Any 2G, 3G, 4G (non-VOLTE) devices, JioPhone or CDMA or operator locked devices can also not be exchanged. Do note that only battery and charger with the phone are needed for exchange, which means it does not include accessories such as earphones.
Jio Phone at Rs 501 on exchange: Things to carry for exchange
Of course, the old phone for exchange is needed, but make sure the battery and charger is also there. In addition, users will need to carry their Aadhaar number. The new MNP Jio number for pople who decide to go with MNP option is needed as well.
© IE Online Media Services Pvt Ltd