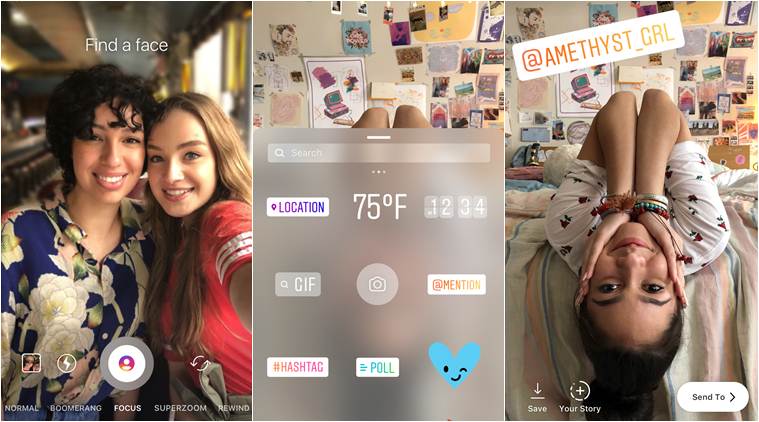 Instagram 'Focus' brings support for Portrait shots: Here's how it will work
Instagram has introduced a new feature called "Focus", similar to the Portrait Mode available on the iPhone. The Focus mode on Instagram allows users to take portrait style photos with a bokeh effect. The new feature is supported on both iOS and Android. The photo-sharing platform has also introduced the @mention sticker for iOS, which makes it easier to tag your friends in Stories.
Here's how to use Instagram's new Focus feature
The Focus camera feature will appear as a user opens the app's camera. Under the 'Record' button, the 'Focus' option appears next to the 'Superzoom' option. On tapping the Focus button, the camera adjusts to find a friend within the frame. After detecting, the Focus camera format highlights the persons in the shot while blurring the background, to create a portrait mode-like shot. Instagram says Focus can be used on both rear and front cameras, as well as on video mode. Users can add filters to the photos or videos recorded in this mode, which can then go under Instagram Direct, or be added to Stories
Also read: Instagram now shows when users are online, last active status: Here's how it will work
Focus is available on iPhone SE, iPhone 6S, iPhone 6S+, iPhone 7, iPhone 7+, iPhone 8, iPhone 8, iPhone 8 Plus, and the iPhone X. The feature will be made available on a select number of Android. The update is available as part of Instagram version 39.0 for iOS in the Apple App Store and for Android in Google Play.
Instagram brings the @mention stickers to iOS
The latest update also brings the @mentions sticker to iOS. This will help users connect with friends through their Stories. Users can pick it up from the stickers tray, and search for the accounts they wish to tag. After selecting a friend, users may scale, rotate and place the @mentions sticker anywhere in the photo or video.
© IE Online Media Services Pvt Ltd