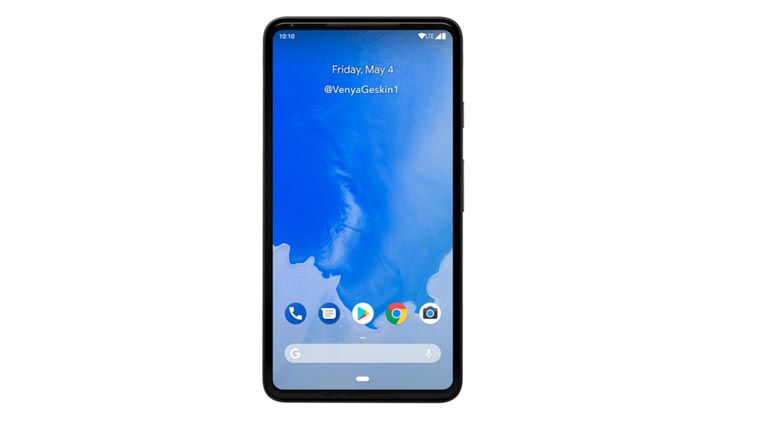 Google Pixel 3 image renders leaked: Will this one ditch the notch?
Google Pixel 3 and its design has become the focus of a lot of speculation. The big question: Will Google go for a notch or ditch it, given that Android P now supports this feature. Google Pixel 3 image renders leaked online indicate there will be no notch, plus screenshots from Android P beta are also being seen as confirmation of the same.
The leaked image renders come from Twitter user Venya Geskin1, who has shared an image render of Pixel 3 with an edge-to-edge display without the notch. It should be noted that this an image render, and not an actual confirmation of what the device will look like. This one comes after screenshots were shared of Android P's settings where the Gestures, and Volume Control settings show a device with a notch-less display. These visuals are part of the Android P beta settings, and anyone who has installed the same on their Pixel 2 or Pixel 2 XL should be able to see them. Check out the screenshots here.
Google's placeholder image in the Settings app of Android P beta is being taken as confirmation that Pixel 3 will not come with the notch. However, in the notifications slider on top, it was seen that Android P is limiting the icons to just four, even if there are more notifications. This was seen as a hint that the extra space in the middle will be reserved for the notch, which could be part of the Pixel 3's display.
To reiterate, a lot of these assumptions are based on what Android P is showcasing at the moment, and what hardware Google picks will only be known when the Pixel 3 is officially launched. Android P is going to support notch, and so it will not be surprising if the display of Google's next flagship has a notch on the front. However, we have seen in the past that Google has also avoided hardware trends with the Pixel series. For instance, Pixel 2 does not sport a dual-rear camera but has Portrait mode, which is driven by software.
Google Pixel 3 will likely launch in October 2018, if one goes by the previous timelines. The company will have two variants of the phone as with previous series, and yes they will likely continue with the premium pricing. Google Pixel 3 will be powered by the latest Qualcomm Snapdragon 845 processor series, when it launches.
© IE Online Media Services Pvt Ltd