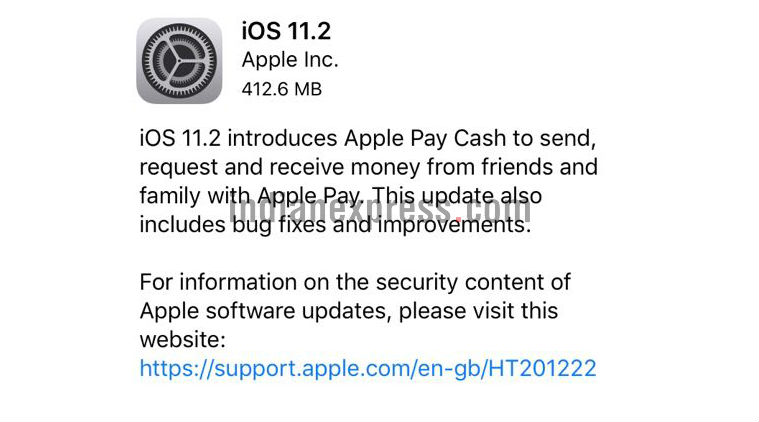 Apple releases iOS 11.2 with date crash bug fix, Apple Pay Cash, and faster wireless charging
Apple has started to release iOS 11.2 ahead of the schedule to fix a number of bugs, including the much publicized date bug. Earlier on Saturday, a date bug in iOS 11.1.2 had caused several iPhones and iPad to continuously crash all around the world as local time zones rolled into December 2, according to reports on Twitter and Reddit.
Evidently, the issue was related to local notifications from apps that offer daily or repeat reminders, notes Macrumors. For instance, if an app on the device is set for a daily reminder, and if the reminder is tied to the local time (i.e not issued from a server) then it should crash your phone. The issue was reported in several countries, including Australia and Singapore, among others.
A support document has been released, alongside iOS 11.2 update outlining steps to be taken to fix the issue. The update is currently being rolled up but in case you don't get the update, go to settings and disable notifications temporarily to fix the issue.
Here's how to disable App notifications:
Tap Settings > Notifications.
Tap an app, then turn off Allow Notifications. Repeat this step for each app.
Update your device to iOS 11.2.
After updating, tap Settings > Notifications and turn Allow Notifications on again for each app.
iOS 11.2 also adds support for Apple Cash Pay. The service lets you send, receive, and request money from friends through iMessage. Apple Pay Cash is only available in the US, though it has not been activated in the country. The update also adds support for fast wireless charging for the iPhone 8, iPhone 8 Plus and iPhone X. These phones earlier supports fast charging up to 5 watts, and with the new update adds to 7.5 watts of wireless charging. Additionally, there are some updated live wallpapers for the iPhone X. Users can download iOS 11.2 on the compatible device by going to General>Settings>Software update.
This week has been really bad for Apple. On November 28, a root bug was revealed allowing anyone to access a mac running the latest High Sierra operating system. Apple fixed that issues with a patch, and even apologized to users.
© IE Online Media Services Pvt Ltd