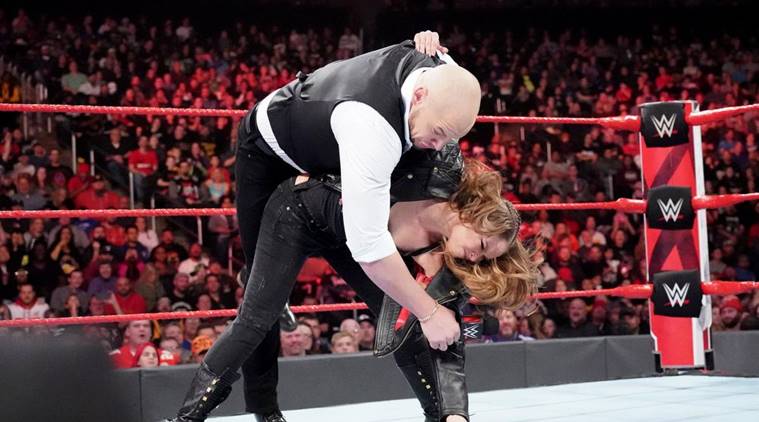 WWE Raw Results: Braun Strowman, Stephanie McMahon strike deal for WWE Survivor Series
Braun Strowman hasn't had the greatest of lucks recently with WWE Raw's Acting General Manager Baron Corbin hurting his chance of winning the Universal title in Saudi Arabia. And the Monster Among Men is pretty upset with events ever since. With Survivor Series approaching, Strowman found it a decent bargaining chip to discuss with Stephanie McMahon.
Per their agreement, Strowman would receive a match against Corbin where he could pick the stipulation and The Lone Wolf signed a waiver absolving Strowman of the damage. Following which, he gets a rematch with Brock Lesnar for the Universal Title. In return, Strowman has to help Team Raw defeat Team SmackDown LIVE at Survivor Series and prove his team-player skills by keeping his hands off Corbin until after WWE's pay-per-view.
This bit of motivation talk brought out Raw Women's Champion Ronda Rousey who assured the Commissioner that she didn't need more reason to beat Becky Lynch on Sunday, though she did strongly imply she was happy to take it out on Stephanie. With things heating up, Corbin tried to calm things down but soon took the brunt of everybody's aggression: Rousey judo-threw Corbin to the mat and while Strowman stuck to his promise of not attacking the Acting General manager, the question remains until when?
Ahead of Sunday's WWE Survivor Series, McMahon also named Finn Balor to the Raw Team after he beat Dolph Ziggler much to the chagrin of McIntyre and Ziggler. Led by Bobby Roode and Chad Gable, Team Raw found its final member in Bobby Lashley.
WWE Raw Results
Raw Women's Champion Ronda Rousey crashed Stephanie McMahon and Braun Strowman's negotiation
Tamina def. Ember Moon
Dean Ambrose burned his Shield vest while Seth Rollins gave an in-ring interview
Finn Bálor def. Dolph Ziggler; Stephanie McMahon named Bálor to the Raw Men's Survivor Series team
Natalya attacked Ruby Riott
Bobby Roode & Chad Gable won a Tag Team Battle Royal to determine the captain of Raw's Survivor Series team
Jinder Mahal confronted Universal Champion Brock Lesnar
Bobby Lashley def. Elias via Count-out to become the final member of the Raw Men's Survivor Series team
SmackDown Women's Champion Becky Lynch led an attack on the Raw Women's division
© IE Online Media Services Pvt Ltd