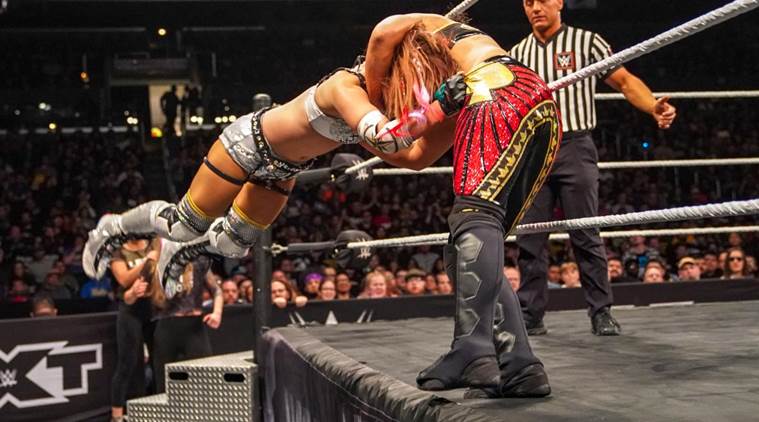 WWE NXT Takeover War Games: This move by Kairi Sane on Shayna Baszler left fans shocked, watch video
Former NXT Women's Champion Kairi Sane had a moment of brilliance in the ring during her 2-out-of-3 falls fight against the current champion Shayna Baszler at WWE NXT Takeover War Games event on Sunday. With the match leveled at 1-1, Sane decided to Baszler, who earlier proclaimed she would do anything to retain the title, tried to deliver a suplex to the Pirate Princess. But Sane was quick to counter and she converted the move into a rolling DDT, planting the Queen of Spades head first on to the edge of the ring.
The crowd was left stunned with the move, and starting making "Holy S***!" chants as Baszler tried to get up from the move. Luckily, for the former MMA fighter, Baszler was quick to roll over and fell down on the ground, and avoided a severe non-kayfabe injury to herself.
#NXTTakeover Kairi Sane reversed a suplex attempt on the apron and drilled Shayna Baszler's head with a DDT on the edge of the apron. pic.twitter.com/rrvDkQMoVE

— @WrestleManSays (@WrestleManSays) 18 November 2018
Well. My first 'holy shit' goes to an inSANE DDT on the apron from Kairi!#NXTTakeOver #NXTTakeOverWarGames

— TWM.news (@TWMNewsUK) 18 November 2018
FUUUUUUUUUUUUUUUUUUUU pic.twitter.com/3ZpgPGY37F

— Sean Ross Sapp of Fightful.com (@SeanRossSapp) 18 November 2018
HOLY SHIT! KAIRI WITH A DDT ON THE APRON TO SHAYNA! YOU DON'T SEE THAT EVERYDAY#NXTTakeOver

— Rey Alexander Mina (@SecondCityReyn) 18 November 2018
That look when your friend might have taken her last DDT on the apron-

Sane wins the second fall with an Insane Elbow. pic.twitter.com/MSc66p85ve

— PWM (@ProWrestlingMag) 18 November 2018
Sane/Baszler ruled. Red hot from beginning to end, and the finish really put it over the top. That apron DDT was terrifying.

— Gran Akuma (@__AKUMA) 18 November 2018
that DDT on the apron though, one of the scariest things I've ever seen in my fucking life, I thought she'd broken her neck. all hail queen Kairi for keeping everyone safe during fucking mental spots

— Logan🏳️‍🌈 (@LoganKenny1) 18 November 2018
Baszler, who was helped at the ringside by her former MMA friends Marina Shafir and Jessamyn Duke, eventually picked up the final pinfall after a controversial pinfall. After retaining the title, Baszler said that no one can take the title from her now.
© IE Online Media Services Pvt Ltd