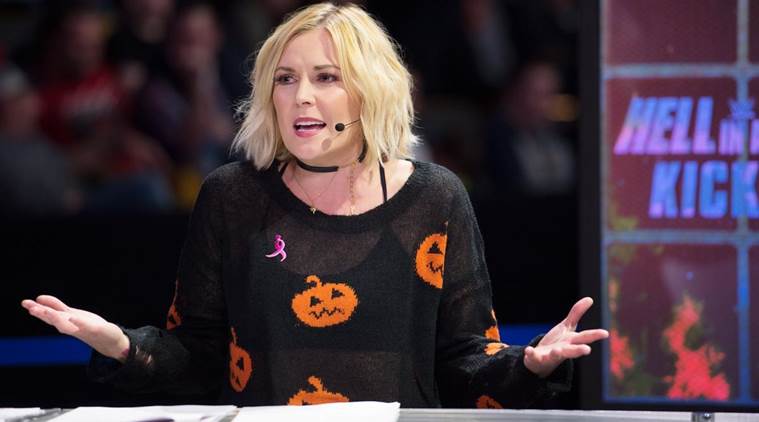 Renee Young to become first woman to call full episode of WWE RAW
WWE's Renee Young will create history on Monday as she will become the first ever woman to act as the commentator for a full episode of Monday Night Raw. The Canadian ring-announcer and broadcast journalist, who recorded her second day of commentary for the Mae Young Classic in Orlando on Thursday, was announced as the substitute for Jonathan Coachman for next week's episode of Raw, with Coach out fulfilling another obligation.
Young will be a part of the broadcast team for the entire three-hour broadcast, which will feature play-by-play announcer Michael Cole and colour commentator Corey Graves. The trio will call out the final Raw before the SummerSlam pay-per-view, which is slated to take place on Sunday.
Speaking to reporters, Young said she is excited about the opportunity. "When Michael told me, I was like, 'This Monday?! What are you talking about?!' I am so excited for this opportunity. To be sitting with Cole, who has been such a great champion of mine since I've been working for WWE, it's going to be really cool," she was quoted as saying by ESPN.
You're going to kill it @ReneeYoungWWE! #RAW https://t.co/qYSbm6FtbU

— Stephanie McMahon (@StephMcMahon) 9 August 2018
And secondly. #raw will be absolutely incredible Monday Night with @ReneeYoungWWE joining me and @WWEGraves! Renee is true trailblazer and about to do something that has never been done before! This is gonna be fun! https://t.co/7o1DmTz5wv

— Michael Cole (@MichaelCole) 9 August 2018
So proud of @ReneeYoungWWE making history as guest commentator on #RAW this Monday!!! 😍😍😩😩 you go glencoco!! #blondieToMyJoan

— PAIGE (@RealPaigeWWE) 9 August 2018
I applaud @WWE for the decision to have @ReneeYoungWWE sit in this coming Monday as a guest commentator on #RAW. The entire program has just been handed an instant upgrade. Bravo! A most worthy recipient of this extraordinary opportunity! https://t.co/ct3xOXt6IO

— Paul Heyman (@HeymanHustle) 9 August 2018
I could not be more excited, or more proud of one of my best friends in the whole world. Congrats @ReneeYoungWWE…Get ready! #RAW

— The Great Corey Graves (@WWEGraves) 9 August 2018
I am absolutely thrilled for @ReneeYoungWWE who has EARNED this opportunity. No one takes lightly the honor of sitting in those chairs every Monday night and I can't wait to hear the different dynamic in Greensboro. https://t.co/uGQbppYyTa

— Jonathan Coachman (@TheCoachrules) 9 August 2018
Cole also spoke to ESPN and said that Young has broken barriers which were never dreamt of. "I believe this is the first time ever that we have had a woman in the booth for an entire episode of Monday Night RAW. Renee has broken barriers all over the place." Cole said. "She's reaching out and doing things that would have never been dreamed of 10 years ago," he said.
Apart from being the regular interviewer on WWE shows, Young has also hosted WWE pay-per-view kickoff shows and was the primary anchor for post-pay-per-view shows "Talking Smack" and "Raw Talk". She was also earlier part of the NXT broadcast team along with a various other commentators.
Must Watch
Manmarziyaan Trailer: 5 Best Things

Floods and landslides in Kerala after southwest monsoon wreaks havoc

Samsung Galaxy Note 9 launched: S Pen, battery are the big changes

5 Reasons To Watch Vishwaroopam 2
Start your day the best way
with the
Express Morning Briefing
© IE Online Media Services Pvt Ltd