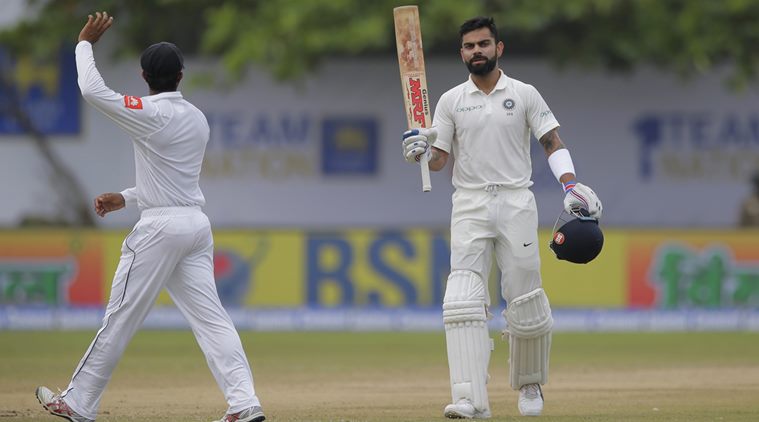 Overworked Virat Kohli deserves a mini break
The Indian selectors will meet in two days' time to pick the squad for the five ODIs and solitary T20 in Sri Lanka. And if they aren't planning to give skipper Virat Kohli a break for the limited-overs leg of the tour, they might be well-advised to do so.
For, since the time the Indian team left for the Caribbean in July 2016 for a four-Test series, Virat Kohli has played a match nearly every third day. India have played 43 international matches across all formats, including the second Test against Sri Lanka at SSC, in that 12-month period and their captain has appeared in 42 of them — having missed the Test against Australia at Dharamsala owing to a shoulder injury.
Only Sri Lanka's Kusal Mendis has played more international matches, 46, in this time but those include just 13 Tests compared to Kohli's 18. In addition, Kohli also played 10 matches for RCB in IPL X.
And there's no break in sight for Kohli and his team either with India's tour of Sri Lanka set to be followed by the busiest home season yet—3 Tests, 13 ODIs and 11 T20s—between September and December before they head to South Africa in January.
You won't expect Kohli to sit out of a series involving Australia, the first of three visitors to India, and it's unlikely he will anyway be left on the sidelines when there's a home series on, regardless of whichever format it's being played in.
A facile ODI series against a struggling team, that's yet to confirm their direct qualification for the next World Cup, in venues including Dambulla and Pallekele is the best opportunity for MSK Prasad and his colleagues to give Kohli the much-needed time off. If they do go that way though, India will have to find a new captain in Sri Lanka. Ajinkya Rahane, who has led India before in three ODIs, will be a natural choice being the vice-captain of the team.
But despite his man-of-the-series winning performances in the Caribbean last month, his place in the ODI team still remains dependent on the more established ones missing out. In the West Indies he opened in place of Rohit Sharma, who was given some extra time to recuperate from his surgery, and it's likely he will step in at No.3 if Kohli, who's traveled more miles over the past year than Ferdinand Magellan did during his voyage around the earth, is rested here.
But the uncertainty about his long-term position in the 50-over playing XI could lead to Rohit, the most successful captain in IPL history, being handed the reins.