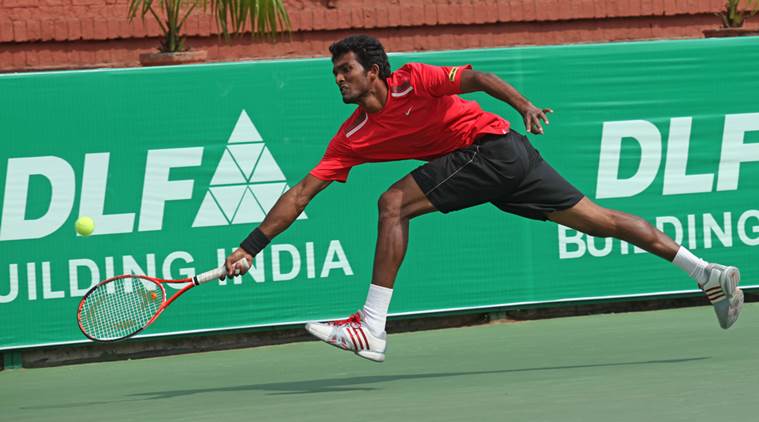 N Sriram Balaji-Vishnu Vardhan turn to crowd-funding
The 2017 season has been the most successful for the doubles pair of N Sriram Balaji and Vishnu Vardhan on the professional tour. They won seven Futures titles and three ATP Challengers. Vardhan also won a fourth title with Toshihide Matsui at the Astana event. But with an aim to focus on the ATP circuit for the next term, the duo has launched a crowd-funding initiative.
"We both play singles, but we've realised that we've got a better chance of winning titles in doubles," says 30-year-old Vardhan.
"There isn't much money in doubles unless you win or you're playing Grand Slams. But to get to that level, we're looking for help. We want to have a travelling coach or trainer with us for the whole of the next season."
This year they played in as many as 14 Challenger events, along with one ATP 250 level appearance at the Chennai Open. But their doubles rankings steadily rose and they reached new heights. Vardhan started the year at 340 in doubles, and is now at his best 116, while Balaji rose from 417 to 133. The rise up the ranking charts even earned Balaji a Davis Cup debut when India hosted Uzbekistan in round two Group 1 zonal tie.
Yet before they start to defend the points they earned this year, the intent is to play at bigger events. With the support of
crowd-funding, the pair is aiming to make their Grand Slam debuts at Wimbledon next year.
"It is the most realistic goal because it's the only Slam that has qualifiers in the doubles," says Vardhan, who has a combined rank of 249 with his 27-year-old partner. "The goal anyway is to try and break into the top 100s as soon as we can. Maybe even make it directly into the main draw if we can. But if not, then definitely take a shot through the qualifiers."
The pair has set a target of $100,000, or close to Rs 65 lakh by way of crowd-funding. "That should be good to help Bala and myself travel with a trainer or coach for around 30-35 events next year, so a full season."
On their own part, the pair is doing their bit to work their way up. On Monday they started a 10-day camp in Coimbatore, with the likes of India No. 2 singles player Ramkumar Ramanathan, Saketh Myneni, Prajnesh Gunneswaran and Vijay Sundar Prashanth also attending. There are also a few coaches and trainers to help the group for the off-season preparation.
So far the crowd-funding program has generated close to $2500. "That's over a lakh. But it will all help," Vardhan concludes.