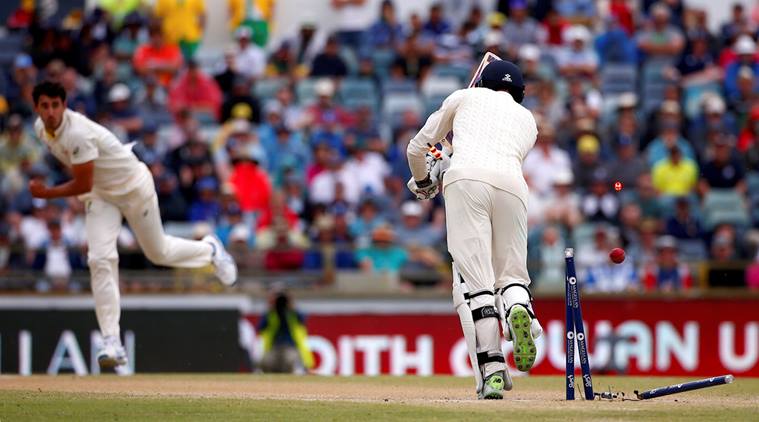 Mitchell Starc gets James Vince bowled with 'ball of the 21st century'; watch video
Shane Warne quipped, "Ball of the Ashes and possibly the ball of the 21st century too. Starc is on fire here in the west!" before correcting himself to, "Ball of the #Ashes & the summer. Starc is on fire here at the WACA !!!!". While New Zealand's Jimmy Neesham stated, "That Vince wicket ball would've dismissed every batsman in the history of the game. Not often you can say that". It is rare that a ball gets as much appreciation from either side of Tasmania. But that is what happened when Mitchell Starc clean bowled James Vince leaving the England batsman absolutely shocked. In what came as an even bigger stamp of approval, Wasim Akram, one of the finest left-arm bowlers the game has ever produced, said, "That's called a JAFFA! What a delivery Starc you reminded me of my bowling days and I enjoyed it to the hilt! You made left armers proud!"
In the 30th over of England's quest to keep the Ashes alive on fourth day of the third Test at the WACA, Starc came darting in from round the stumps, got the ball to pitch on middle stump, before seaming away late past a set Vince's bat to rattle the stumps and England's hopes. Already set in the middle, batting at 55, Vince had a good measure of the surface but little he could do about it. Little anyone could do about it, to be fair. The ball hit a crack or on the reverse swing to get it to move away and do enough to hit the off stump. Vince was early into the shot and went for a flick but no way could he have done anything about it.
That Vince wicket ball would've dismissed every batsman in the history of the game. Not often you can say that #Ashes

— Jimmy Neesham (@JimmyNeesh) December 17, 2017
That's called a JAFFA! What a delivery @mstarc56 you reminded me of my bowling days and I enjoyed it to the hilt! You made left armers proud! @CricketAus

— Wasim Akram (@wasimakramlive) December 17, 2017
James Vince who had played so well, was opened up and decimated brutally. Angled in from round the wicket, pitch on the stumps, then hit a crack or with reverse happening get it to move away. This did move away and went on to demolish the stumps as Vince was trying to flick across the line. He was so early into the shot and missed the line by a long way. Starc, expectedly, celebrated and was pumped following the dismissal.
Some drew parallels between the Starc delivery to when Dale Steyn struck on his Test debut to dismiss Michael Vaughan with an equally breathtaking delivery.
Not better than this onehttp://t.co/PLNVI3KEkm

— Wasim Waqar FC (@rajasabirpk) December 17, 2017
At stumps, England were 132/4 on the fourth day of the third Test looking to cancel out Australia's 259-run first innings lead. Australia lead the five-match series 2-0 with the Ashes looking set to return to Australia.
© IE Online Media Services Pvt Ltd