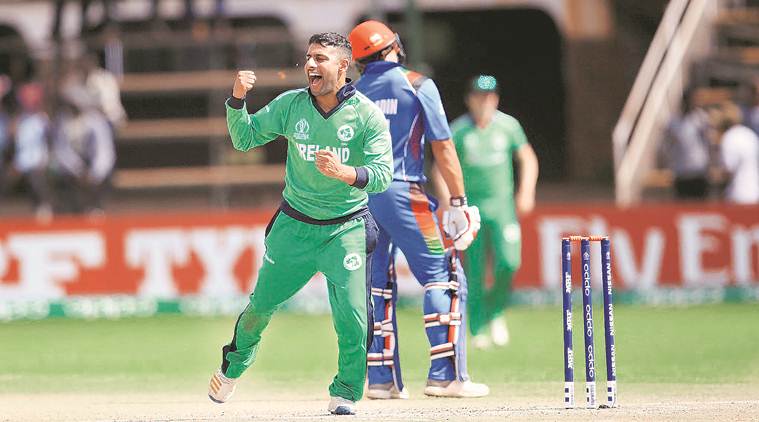 Ireland picks Mohali's Simi Singh to take on India
WHEN THE Virat Kohli-led Indian team faces Ireland in the opening match of the T20 International series at Malahide Cricket Club in Dublin, it would be an emotional moment for Mohali cricketer Simi Singh. Simi, who first went to Ireland for studies in 2006 before playing and coaching at the Malahide Cricket Club, has been named in the 14-member Ireland team for the series against India and the 31-year-old cricketer is ready to face a team, he had once aspired to play for.
"From the day I started playing cricket in Mohali, I always used to dream about playing for the Indian team. When I did not get my chance in Punjab cricket, I went to study in Ireland and now to get a chance to play against the Indian team at the same ground, where I used to play and train kids, is the biggest moment of my career. Though I have never met players like Indian captain Virat Kohli or M S Dhoni, I have always seen them play on television. In my college days in Chandigarh, I played along with Yuzvendra Chahal and also with Siddharth Kaul and facing them on the cricket field again will be special. A lot of my friends in Ireland will wear my Ireland jersey with Singh written on it and cheering for me," shared the cricketer, who got Irish citizenship last year.
Simi, who went to Ireland along with fellow cricketer Gauravjeet Singh Sandhu, to study hotel management in 2006, played for the Mohali U-17 side in 2004 when he scored 725 runs in the Punjab U-17 tournament. The cricketer returned to Ireland in 2009 to join Old Balverydale CC and YMCA Club later.
Last year saw Simi making his debut for the Ireland team against New Zealand in Dublin and the all-rounder has so far played seven ODIs. The all-rounder also made his international T-20 debut against the Netherlands early this month and picked three wickets apart from scoring a half-century in the match. Earlier, Simi was also associated in a List A world record seventh-wicket partnership with George Dockrell for his team Leinster Lightning against Northern Knights.
"Playing in the T-20 format at the international level before the series against India gave me a lot of confidence. Scotland and Netherlands have some very good players and taking wickets against those teams helped my game. Playing for Leinster Lightning, which also sees the presence of players like Kevin O'Brien, also gives me an opportunity to hone my all-rounder skills. The century against Knights earlier this month came in tough conditions and it feels good to see my name in the record books," shared Simi, whose father Amarjit Singh is a teacher at a government school in Chandigarh.
Though Simi missed Ireland's historic maiden Test against Pakistan last month, the all-rounder is gearing up for a packed schedule ahead. With Ireland set to play 13 Tests, 62 ODIs and 65 T-20s according to the recently released FTP (Futures Tour Programme) calendar, Simi has also set his focus on the World T-20 qualifiers. "It was disappointing for me to miss the Test against Pakistan but the team wanted pace bowlers for the match. Our coach Graham Ford has been spending a lot of time with the spinners too and after the India and Afghanistan series, I will also spend some time in Australia adjusting to the local conditions there. I want to cement my place in all three formats with the latest FTP being released and helping Ireland qualify for the T-20 world Cup will also be one of the goals," said Simi.