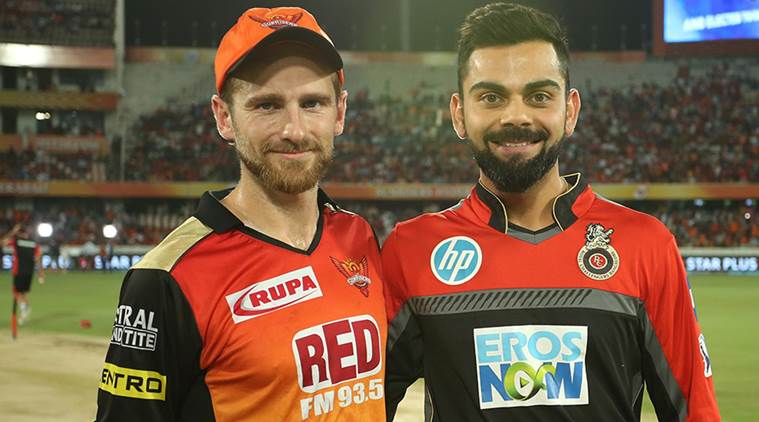 IPL 2018, RCB vs SRH: How a Royal Challengers Bangalore win can affect playoffs scenario?
Royal Challengers Bangalore have found a new breath of life in the ongoing season of Indian Premier League. With a poor start to the campaign, the side led by Virat Kohli are still placed at the 7th position with just 10 points in 12 games. But with two consecutive victories in a row, especially a 10-wicket victory over Kings XI Punjab in their previous match, RCB are still in contention of going through to the Playoffs. But things are still not easy, as they will host the table toppers Sunrisers Hyderabad in Bengaluru on Thursday. While the Kane Williamson-led SRH are already into the Playoffs, they would be eager to win the remaining two matches and finish strongly in the group stages. For RCB though, almost everything hinges on a victory in the match. Here are all the possible scenarios in the match:
Royal Challengers Bangalore win
Royal Challengers Bangalore skipper Virat Kohli has maintained that his side needs to win all their remaining matches to qualify. It is exactly what RCB have been trying to do since the past two games. But now they are up against Sunrisers who have been in great form this season. If RCB manage to pull off a win, they will become the fourth team to have 12 points in 13 games. It might either put them in the 4th position in the table or 5th, depending on Net Run Rate. With MI having a NRR of +0.384, RCB need to register another big win to climb up to the 4th position. They would still need to beat RR in their next encounter though, to make it through the Playoffs while hoping results of Mumbai Indians, Rajasthan and Kings XI Punjab go in their favour.
Royal Challengers Bangalore lose
If Royal Challengers Bangalore lose against Sunrisers Hyderabad, there is a still a mathematical possibility for them to make it through the Playoffs, but things will get mighty tough for them. If RCB lose, they will remain at 10 points after the match, with just one match left – against Rajasthan Royals. With MI, RR and KXIP all sitting on 12 points in the table, RCB will need to win their final encounter against RR by a huge margin to keep their Net Run Rate high. But apart from this, they will also need to hope that CSK beat KXIP and DD beat MI in the remaining matches. This will ensure that MI, KXIP, RR and RCB will all remain at 12 points, and the team with higher NRR will become the fourth team to qualify after KKR.
Match ends in No Result
If in the rare case scenario that the match gets abandoned due to bad weather, RCB will earn a point which will take them to 11 points in 13 games. It would mean almost the similar scenario as they lose, as they would still have to hope for all the aforementioned possibilities to make it through the Playoffs. Though, it might make it slightly easier for them, in a way, that they will not need to beat RR by a huge margin as if all these possibilities took place, RCB will have 13 points, while MI, KXIP and RR will remain at 12 points and NRR will not come into play to decide who finishes in the fourth spot.
© IE Online Media Services Pvt Ltd