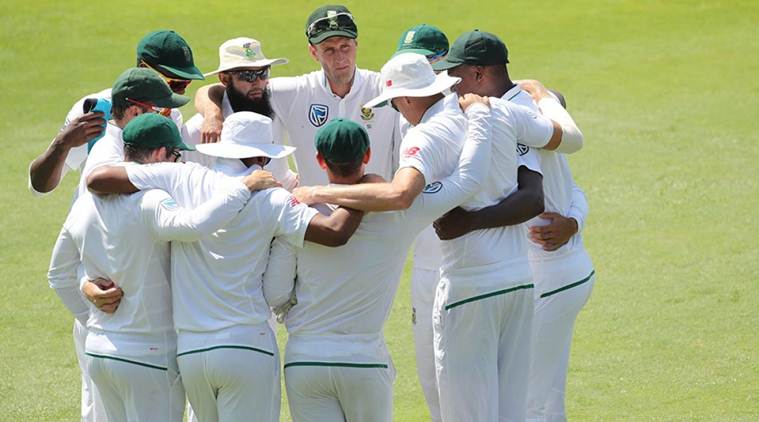 India vs South Africa: Five pacers likely as hosts get green signal to deploy heavy artillery
The series has been secured with a match to go, but the Proteas will not rest until they full avenge their humiliation on Indian soil in late 2015. And they intend to unleash the full artillery at their disposal to do that.
South Africa went to India on their last tour with the enviable record of not having lost an away series for nine years. But they were sent crashing down to earth 0-3 on bunsen burners, and are keen to show the Indians how it feels when the shoe is in the other foot. And the hosts see a perfect ally in the spicy Wanderers pitch. The surface is green enough for them to contemplate leaving out left-arm spinner Keshav Maharaj for an all pace attack.
"We just have to make sure we keep options open. The wicket looks like it should be a normal Wanderers wicket, but even tomorrow morning, just see what the pitch looks like and if there is the same amount of grass on it. Kesh is an extremely talented spinner and we are very lucky to have him. So if we do think of leaving him out, you have to be 100 per cent sure that you want to leave him out," South Africa skipper Faf du Plessis said on the eve of the third Test.
Virat Kohli has his task cut out to prevent a series whitewash. He has changed the playing 11 every time he has led India, and the situation his team finds itself in, and the colour of the pitch, may prompt them to make a few more changes, like dropping their own spinner, R Ashwin.
"It's going to a very lively wicket throughout the course of the Test match. I think it's going to be a typical Wanderers wicket where there's good grass, the surface is going to be hard and good bounce also. We would definitely look at that option (all seam attack). We have taken 40 wickets so far and need to figure out what's the best way to pick up 20 wickets again in this Test match," the India captain said.
Like the visitors, the Protea batting has not exactly fired on all cylinders, and if Maharaj does miss out, the choice will be between seam-bowling all-rounder Andile Phehlukwayo and an extra batsman in Theunis de Bruyn.
"Whether you go for an all-rounder to give you that option from a batting and bowling point of view or generally what you can do is to play seven batters and four seamers. That's the three combinations we are talking about from a selection point of view," du Plessis said.
Victory at the Wanderers will not only bring a series whitewash, but also take South Africa to within a few decimal points of the No. 1 rank in Tests, with a home series against the Aussies coming up.
"Leading into the Australia series we want to go into it with that momentum we have been gathering over the last two games. Australia have been playing some really good cricket so by no means is anyone in the team thinking this is an opportunity to take our foot off the gas. We are really motivated to get a 3-0 win."