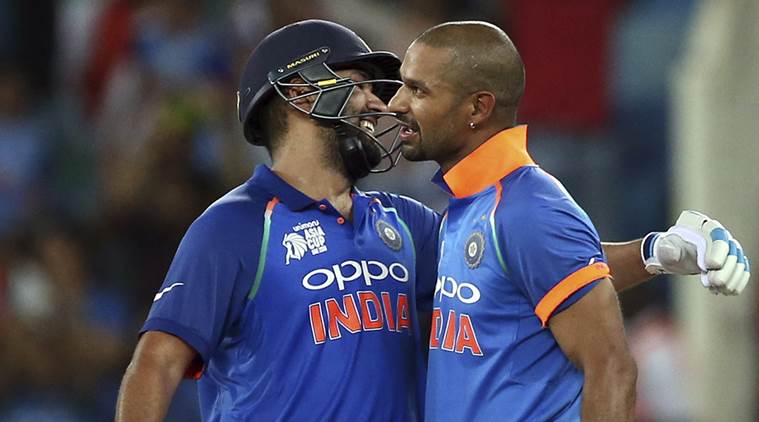 India vs Pakistan, Asia Cup 2018: Don't even need to speak to Shikhar Dhawa while batting, says Rohit Sharma
Rohit Sharma said that he and Shikhar Dhawan had looked to bat as long as possible during their match against Pakistan at the 2018 Asia Cup. "We know how important the first 10 overs is. The chase becomes a little easier if that's done well. The most important thing was to bat as long as possible and that's what we did," said Rohit during the closing ceremony. The pair ended up putting an opening stand of 210 as India chased down a target of 238 with nine wickets and more than 10 overs in hand.
It is the highest opening partnership by an Indian pair against Pakistan, surpassing the one made by Sachin Tendulkar and Sourav Ganguly in 1998 in Dhaka. It was also the highest between Dhawan and Rohit. "Opening with Dhawan is, I don't even need to speak to him, it's important to let him be and we've batted enough to understand each other's games," said Rohit, who is standing as captain in place of Virat Kohli at the Asia Cup. In the course of the chase both players ended up getting centuries while Rohit crossed 7000 runs in ODI cricket.
The foundation of the victory was set by the efficiency of India's bowling attack in the death overs. India conceded just 34 runs in the last seven overs of the Pakistan innings. The effort was led by Jasprit Bumrah, who took two wickets and conceded just 15 runs in the four overs he bowled during that period. "Bumrah has matured as a bowler now, has played a great amount of cricket and he understands his bowling," said Rohit. "It's very important for any player. He understands what fields he needs to set and on a wicket like that you need to be clever, keep it tight, keep up pressure. Bhuvneshwar too did exactly the same We never wanted to let them off the hook and our spinners have been magnificent throughout the tournament. They kept taking wickets and when you do that, you win. It was a challenge when Hardik got injured. We were playing four spinners including Jadhav. We wondered about going with three seamers, but knowing these conditions, we went with the spinners and they have been great. Jadeja too, to come back into the side and do so well."
© IE Online Media Services Pvt Ltd