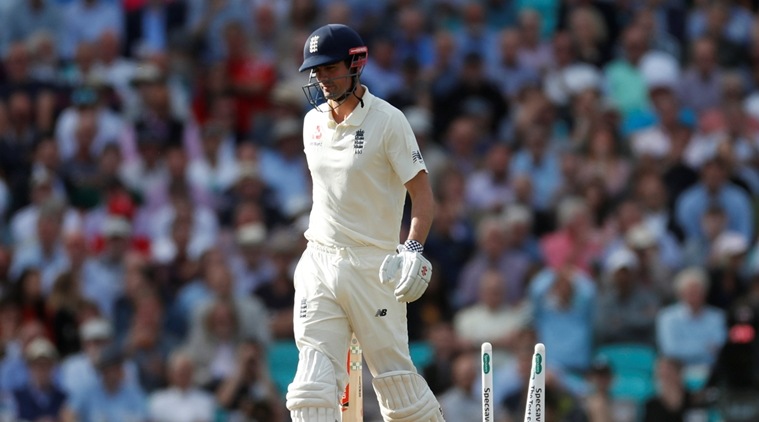 India vs England: The way India bowled was fantastic, says Alastair Cook
Alastair Cook and Moeen looked to have the opening day of the fifth Test between India and England set to go the hosts' way but things changed dramatically in the final session to shift the balance in India's favour. Playing his final Test, Cook had scored a fifty – to add the many during his illustrious career – to have England 123/1 at Tea before the India bowlers ensured they finished in the ascendancy at stumps. Cook credited the Indian bowlers for giving little away even when England were in a strong position.
"I thought the way the Indians bowled was fantastic," Cook told Sky Sports. "I think I played one cut and one pull shot all day. A lot of credit to them."
He singled out Mohammed Shami for the praise even though he finished wicketless at stumps with England 198/7. Shami beat the bat countless times and kept Moeen on his toes during his 50-run knock.
"It was an unbelievable spell," he said. "I was facing Jadeja at the other end and quite happy! We found it hard to know which way it was going. One thing Mo did pretty well, yes he was playing and missing, but he wasn't curtain-railing as much, he was playing the line."
"There's sometimes a skill in playing and missing, I know it's a bit of a funny thing, but he wasn't moving his hands as much. Sometimes in Test cricket you've got to just suck it up and you need a bit of luck," he said.
Cook reckoned the surface in the fifth Test at The Oval in London was the easiest to bat on in the series. "It has been testing batting conditions for both sides with the new ball, but it didn't nip as much early on here. There also wasn't as much zip off the wicket, it was a slightly slower wicket. There was a bit of swing as the ball got a little bit older. The ball hasn't strung straight away throughout the series."
Alastair Cook on retirement, career, Kevin Pietersen sacking and Ashes highs
"I can't [think of conditions as testing as this series]. Whether it's the ball or the amount of grass which is left on the wickets these days, you don't often get a white wicket anymore. It's certainly made it an interesting contest between bat and ball."
After a forgetful series, Cook finally was among the runs and reasoned it was needed especially after the tributes paid to him ever since announcing his retirement. "I think because of the emotion I didn't want to not get a score. There's nothing worse than going out and not contributing after all the fuss about the week. I was probably just as nervous as I was anyway."
"Everyone says, 'just enjoy it, it doesn't matter how many runs you get', but actually that's never the case. There's never a game of cricket ever like that. It was nice to get off the mark, that was the most important thing first. I think it was seven or eight balls and then got going."
Alastair Cook reveals how he broke his retirement news to teammates
At the start of the day, Cook received a guard of honour from the Indian team and a rousing reception from a packed stadium. "It all happened so quickly," he said. "It's really weird, I always think playing in the Ashes at Lord's, walking through the long room, it's such an amazing noise, but you just do not appreciate it. The guard of honour is such a nice gesture, but you're just focussed on batting.
"It was very kind of Virat and the Indians but you're just trying to concentrate on that first ball. The reception I got was fantastic, but it kind of went on a bit and made me even more determined not to get out."
© IE Online Media Services Pvt Ltd