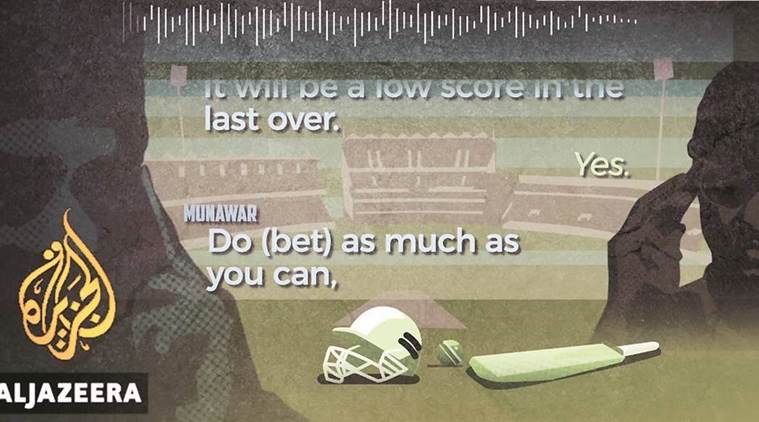 In India vs Australia Ranchi Test, too, the fix went down exactly as fixer Aneel Munawar said it would
Two days before the Test in Ranchi between India and Australia in March 2017, Aneel Munawar meets the stingers in Mumbai hotel. "Tomorrow evening, I will give you whatever comes out to be the final quote. You want to do business. Done, okay?"
Munawar claims he has two Australian cricketers in his control, and once again it would be a session-fix. As the match starts, Munawar rings. Again, it's revealed in the show that the fix was for 10-overs session.
"It will come after ** over." The voiceover says Munawar will call at the first over of the "session" and give details of the fix; and he apparently calls and tells the runs total quoted by the bookies. And Munawar's tip is to place the bet for runs below the bookie's figure. And that the last over in that "session" will be 'manda'.
The sting has this bit of conversation where the middleman, called Pintu, calls Munawar back as he has a doubt. The score was already higher than the one given by Munawar. The conversation goes like this: "About what you just said, (** to **) runs, is it (1** to 1**) runs? Munawar replies, "yes yes 100 add kar lena yaar" and the middleman says, "yes yes, 1** toh already ho gaya hai." The voiceover explains that in Indian betting, the 100's column is left out. And the subtitles frame the score between 1** and 1**.
Ed Hawkins is shown watching that session-fix phase and a blurred visual seems to show a batsman taking his helmet off. Hawkins says, "You wonder whether he is taking his helmet off deliberately." And as Al Jazeera interjects with 'twice', Hawkins says, "yeah twice".
Australia reached lunch at 109/3 from 30 overs, with Steve Smith on 34 from 63 balls, and Peter Handscomb on six from 14 balls. Australia go to tea on 194/4, and in the post-tea, the total goes past 200; in fact, they reach 299/4 by end of play, Smith unbeaten on 117 and Maxwell on 82. Maxwell goes on to score a hundred next day — and the Test, incidentally, finishes in a draw.
And the voiceover gives another information about the manda over, which would be the last over of the session-fix. "No run was scored in the over he mentioned, and once again the fix went down exactly as he said it would."
Incidentally, there were two overs in that post-lunch play where no runs were scored. The first was the first one after resumption, and the second came in the 60th over, the final one before tea. In that last over, Ravindra Jadeja goes round the stumps. The first two balls are down the legside, Maxwell pads away the next three, and smothers a really full-pitched sixth ball. The cricketing logic is easy here: the bowler was bowling round the stumps, targeting the pads, and it was the final over before tea break.
Meanwhile, in the sting video, Hawkins says: "Watching the guy bat and he is like a cat on coals, desperately trying to get on top of the ball and cover any edge that might squirt off to concede a run."
Chris Eaton, the former Interpol investigator, has this to say: "You can't have so many coincidences in terms of what Munawar was predicting and what occurred."