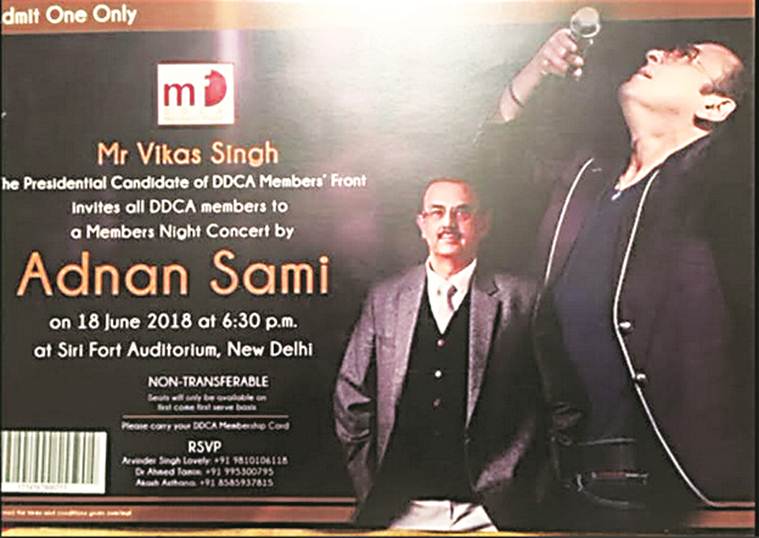 Concert, dinner, gift hampers on way to DDCA polls
Nearly 1,800 Delhi and District Cricket Association (DDCA) members will be at the Siri Fort Auditorium Monday evening in New Delhi for an Adnan Sami concert. But before the singer and composer, credited with multiple Bollywood hits, takes stage Vikas Singh, Supreme Court lawyer and a presidential candidate for the upcoming DDCA elections on June 30, will feature in a slideshow showcasing his vision about cricket development.
The slideshow comes a week after supporters of India TV owner Rajat Sharma, another presidential candidate and Singh's rival, hosted a "drinks and dinner" evening for the same members at the Roshanara Club. That party had ended with a promise of a bigger bash at a five-star hotel. In between, there was a tea party, called chai pe charcha, hosted by former India all-rounder Madan Lal, also in the DDCA poll fray.
With candidates desperate to outdo each other, no cost has been spared to win the all-important honorary posts at the DDCA, that come with special match-day perks and instant elevation in the social circuit.
In the first BCCI unit election after the Supreme Court asked cricket bodies to implement Justice RM Lodha's reforms, poll spending has hit a new high. The end of proxy systems has made every member important and the campaign expensive.
Singh, also president of the Supreme Court Bar Association, says "world class singer Sami" will ensure the undivided attention of the members and a captive audience for himself. "It is costing me a little bit of money, but it is a better option than having dinner and drinks because there is no control over when people will come and leave. My priorities are transparency in selection and facilities for members. There are all kinds of wrongdoings going on in the DDCA," he says. Singh also leads the 'DDCA's Members' Front'.
Former DDCA treasurer Ravinder Manchanda, whose brother Rajan is a joint secretary candidate in Rajat Sharma's panel, says the drinks and dinner evening was a way to create an impression. "It is a show of strength. If we get a good crowd, it shows there is a wave in our favour," he says.
Another contesting member, who owns a sweet shop in Old Delhi, plans to courier "mithai and namkeen" hampers to members. Taking a cue from mainstream political campaigns, candidates have also launched a blitz on WhatsApp groups. The "good morning" messages to voters are followed by with decked up resumes of candidates and dirt on rivals.
"This morning I got a message from a group that said that they will make public corruption cases against some former officials whose family members are contesting this time," says a member.
Former treasurer Manchanda claims that BCCI acting president CK Khanna has distributed between 600 and 700 IPL passes to win over members. "I want an inquiry into how Khanna as BCCI acting president got so many passes. He has been calling members to ask if they want passes," he says.
Khanna, whose wife Shashi is contesting for the post of vice-president in the Madan Lal panel, denied the claims. "As BCCI president, I received less than 20 complimentary passes for the IPL. I am not the first president to receive complimentary passes. I don't know why people are alleging that I distributed hundreds of passes to members when I received such a small number," Khanna says. With the election still more than a fortnight away and no favourites, the candidates are jittery. As for the members, they don't want this June full of freebies to end.