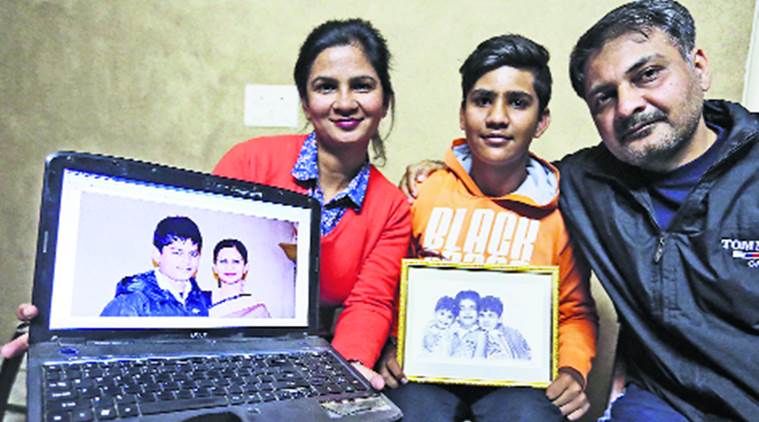 Chandigarh-born Param Uppal to bat for Australia in ICC U-19 World Cup
Although it has been more than 24 hours since Chandigarh born 18-year-old Param Uppal was named in the Australian U-19 cricket team for the ICC U-19 World Cup in New Zealand, celebrations at the Uppal house at Sector 125 in Mohali have not ended. Param's father Devinder Singh Uppal migrated to Australia from Mohali in 2003 and his younger brother Bhupinder and his family were overjoyed with Param getting a chance to don the Australian colours in the upcoming World Cup.
"Param was born at Sector 32 GMCH, Chandigarh, and our father Harbhajan Singh, who retired as warrant officer from the Indian Air Force, always wanted all the children to pursue sports along with studies. I and my brother Devinder also played hockey for our school Kendriya Vidyalaya-47 and Devinder played cricket for Panjab University, too, before shifting to Australia. Param's inclusion in the U-19 Australian cricket team for the World Cup is the biggest news for us and we are eager to see him play. We surely plan to watch him play in New Zealand and will be cheering for him," gushed 45-year-old Bhupinder, who does business in water treatment in Mohali.
A resident of the Glenwood suburb in Sydney, Param has been making waves in the junior cricket circuit in Australia. The youngster was one of the three captains to lead Australia against Sri Lanka in the three-match series in Hobart early this year where he also smashed 210 runs, including a century. While his father, who was a lawyer in the Punjab and Haryana High Court before shifting to Australia, works in the railways transport department in Sydney, mother Jaspreet teaches at Muirfield High School. On Friday, Param was also adjudged man of the tournament with 370 runs and 10 wickets for NSW Metro in the Australia U-19 ODI Championships.
"Param last came to India in 2011 and since then, he has been busy attending various camps and team practice. He has not seen a cricket match here yet. But we will surely make him watch an international match next time he comes. We went to the Golden Temple in Amritsar when he came last time and he is also fond of Indian food. He likes paneer and chicken dishes and I am sure he will ask us to make that for him after the World Cup," said Bhupinder's wife Satinder, who is a teacher at Vivek High School, Mohali. Param's selection has also brought cheers to his cousins, 16-year-old Karan Uppal and 14-year-old Jashan Uppal. Karan has played table tennis at the state level and Jashan basketball at the district level.
"Param has been so busy in the last six months that we have not talked over phone. He attended a training camp in Brisbane earlier and we followed his performance in the U-19 championships on internet. He keeps sending us pictures of him training with Steve Smith, who is my favourite cricketer, too," added Jashan.