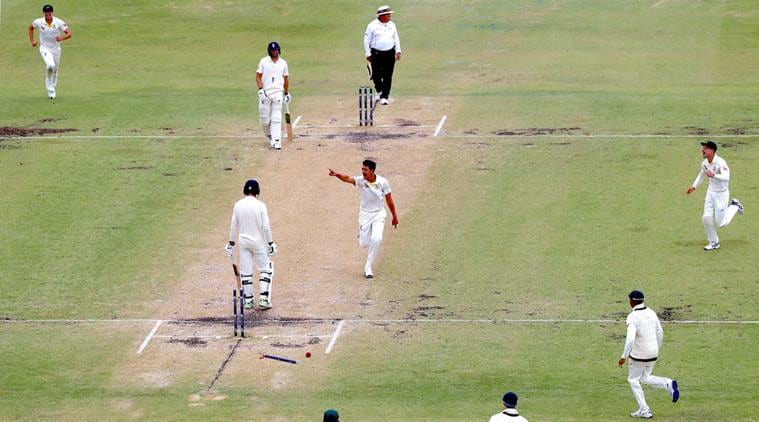 Australia vs England, Live Cricket Score, 3rd Test, Day 5: After rain, soft pitch concerns, play set to start in Perth
England had a miserable day at the office on the penultimate day of the third Ashes Test after they were reduced to 132/4 in second innings. Earlier, Australia piled up a mammoth total of 662/9 in first innings and then scalped four English wickets. The fast bowling duo of Mitchell Starc and Josh Hazlewood bagged three wickets in total while off-spinner Nathan Lyon too had a dismissal to his name. England now trail by 127 runs with 6 wickets in hands so far. Australia presently lead the series 2-0 and would now look to take an unassailable lead in Perth.
Australia vs England, 3rd Test, Day 5: LIVE SCORE AND UPDATES
1018 hrs IST: GREAT NEWS! Play will start at 1 PM local time or in just about 10 minutes time. YAY!
1002 hrs IST: We won't be starting on time after lunch either. Groundstaff continue to work on the pitch, says Cricket Australia. No word on when can we start.
0922 hrs IST: Or not. Instead of the expected start time of 12 PM local, players will take lunch with aim to start at 12.40 PM local or 10.10 AM IST
0919 hrs IST: The inspection scheduled for 0910 hrs IST has finally been done which means the rain has stopped. Umpires discussing the situation with Root and Smith. Blowers are back on. Cummins and Hazlewood are warming up. Looks like we'll get play soon.
0855 hrs IST: The rain has stayed away and the covers are off. Umpires are now inspecting the pitch alongside the two captains. Smith marches into the dressing room and it looks like a positive sign. Root, however, shakes his head following the conversation. The umpires had decided to inspect at 11.45 AM local time – 15 minutes from now with play expected to start at noon local time – 30 minutes from now. But just as we get that info, it has started raining heavily
0835 hrs IST: No start yet unfortunately. Even with the pitch controversy, rain continues to play hide and seek. After brisk showers, it has stopped once again. Grey clouds overhead mean another spell may be along soon. As per the prediction, the worst part is over. The pitch, however, is the bigger concern at the moment. Five blowers being employed on the wet patch.
0750 hrs IST: "Pitch has been altered overnight" is the verdict…
Asked if pitch has to be same as yesterday, umpire Chris Gaffeney: "100% it has got to be same for both sides and at this stage we believe the pitch has been altered overnight" Erasmus: "At the moment it's fairly soft"

— Ali Martin (@Cricket_Ali) December 18, 2017
0745 hrs IST: Hello and Good Morning for our live coverage on the fifth day of the third Ashes Test. The equation suggests England trail by 127 runs with four wickets down. The fourth day ended early with rain which means the fifth day starts early at the WACA. Early pictures also not good. There is a wet patch on the surface and play can't resume until things are back to dry-self. Umpires have made things clear on how they want the surface to be for the play to begin. Lots of work for the ground staff!
© IE Online Media Services Pvt Ltd