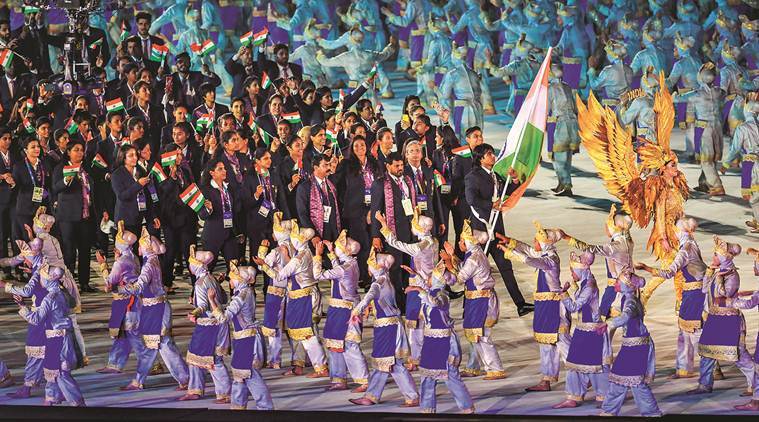 As Asia showcases unity, two Koreas get loudest cheers at opening ceremony
Indonesian President Joko Widodo lightened up the opening ceremony of the 2018 Asian Games by zipping into the stadium, donning a suit, on a two-wheeler. His helmet-hidden face suggested that a body double could have performed the leaps off highrises and wheelies before the grand entry at the Gelora Bung Karno stadium.
Jokowi, as he's fondly called, did brake at a signal in a pre-recorded video, to allow school children to cross the road, even high-fiving some of some of them. The scenes played out to a soundtrack of contemporary Indonesian Dangdut music — it's foot-tapping, dreamy, romantic, utterly lovely.
President Jokowi, a known headbanger and Metallica fan, besides grooving to the Games song 'Meraih Bintang' (Grab the Star) by Via Vallen, a popular Dangdut voice, also spoke of the need for Asian unity as his country invited sportspersons from a continent that set 14 world records at the last Asiad.
 Asian Games: Watching top wrestling on his smartphone, Bajrang Punia gets smarter
This feather touch of humour is being seen as Indonesia's signature move that will be repeated during this fortnight-long sporting fest.
This is an early warning by the hosts that this Games will have a casual sporty feel as Indonesia has consciously dropped the idea of macho power-posturing. In the crowded urban spaces of Asia, perhaps the most liberating thing is the zipping, swirling motorbike.
In the stands and on the field, nations with enviable diversity marched to a thundering applause as Asia seemed to assert itself as a land refusing to trade peace for dividing conflicts.
This statement of Asian unity, a majority of whom have been victims of colonialism in the past, and many who still run the risk of being used as pawns in war theatres of the rest of the world, resounded through a country and a stadium that was a microcosm of these very divisive challenges.
 Asian Games: Vinesh Phogat is ready for familiar foes at 'Olympic Part 2'
Perhaps one of Asia's largest rainbow nations, facing unprecedented times when the very idea of Indonesia is confronting ethnic strife among its Islamic, Malay, Chinese, Hindu, Buddhist and other islanders, the country exhaled its wish for people to stay united.
The loudest cheers were, like always, reserved for Palestinians, Syria and even Timor Leste (East Timor), formerly part of the new nation-state of Indonesia since the country last hosted the Games in 1962.
The country has fresh memories of the last time it played hosts, though 2018 was all about celebrating its diversity from the traditional Saman dance of north-western Aceh islands to Jakartan jali jali music (mix of Malay, Arabic and Chinese beats and strains).
The warm-fuzzy story of the Games is Korea. As the flag-bearers, woman basketballer Yung Hui and soccer star Ju Kyongchol of DPR, carried the flag, and Lee Nak-yeon (South Korean prime minister) and Ri Ryong-nam (North Korean deputy prime minister) held up hands, the Jakarta stadium burst into the loudest of liberating cries of cheer and the softest muffles of sniffly tears.
India got its share of cheers too, as Neeraj Chopra walked in bearing the flag.
Start your day the best way
with the
Express Morning Briefing