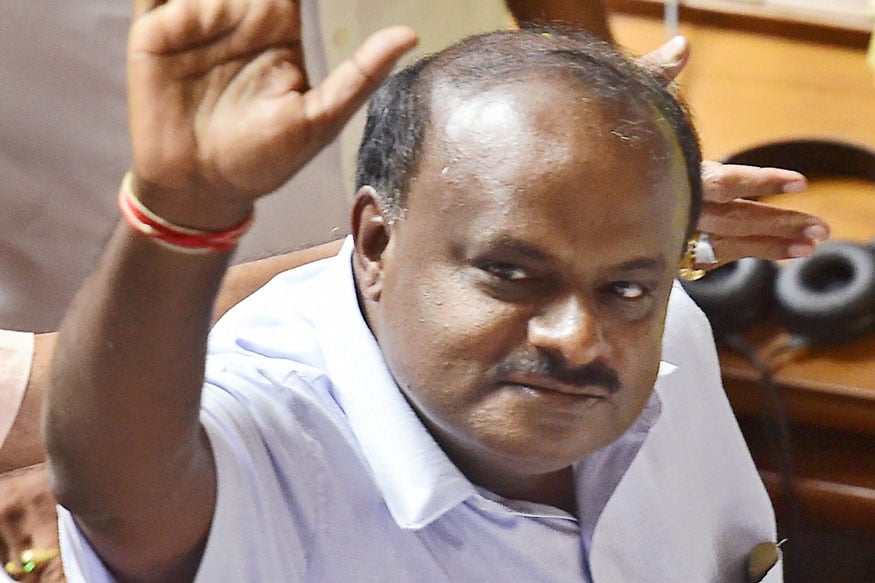 'Time Will Tell': HD Kumaraswamy's Cryptic Response on the Strength of Cong-JD Alliance
New Delhi: Karnataka Chief Minister-elect HD Kumaraswamy landed in Delhi on Monday and will soon meet Congress leaders Rahul and Sonia Gandhi to complete modalities of cabinet and ministerial berth sharing.

"No seat sharing arrangements finalised as yet. They will get clearer after talks," said Kumaraswamy upon arrival in the national capital.

The Congress — which has the lion's share of MLAs in the post-poll alliance with JD(S) — will be lobbying for a significant number of ministries citing reasons that it has sacrificed the top job for Kumaraswamy, JD(S) too is not keen on going for a hard bargain to grab more than 15 berths with 37 MLAs.

According to sources, Congress has asked Deve Gowda's JD(S) to accommodate the BSP MLA and Independents in its share of ministries as Congress will have to consider several other heavyweights, regions, caste and other factors in distributing portfolios in the coalition arrangement.

On being asked by News18 as to how strong is the anti-BJP alliance with the Congress, Kumaraswamy said: "Time will tell."

Clinching victory from the jaws of defeat after Karnataka gave a fractured mandate, the alliance is not looking at a lavish swearing-in ceremony on Wednesday and sources say it could very well end with the oath-taking of just the chief minister and the deputy chief minister. The parties are clearly trying to avoid any disgruntlement at the time of the trust vote and also prevent loose talks among those eyeing the ministries.

Among the other details of the new government that are likely to be finalised at the Monday meeting, the regional representation of MLAs in the government would be one. While Old-Mysuru and Bengaluru regions are expected to get the lion's share, the Mumbai-Karnataka, coastal regions and Hyderabad-Karnataka regions would also be considered for representation.

HD Kumaraswamy is most likely to take office at 1.30pm on Wednesday, as prescribed by his family astrologers.

BS Yeddyurappa, who was sworn in as the Karnataka CM on Thursday, stepped down on Saturday without facing the floor test in the state assembly as the BJP fell short of numbers.