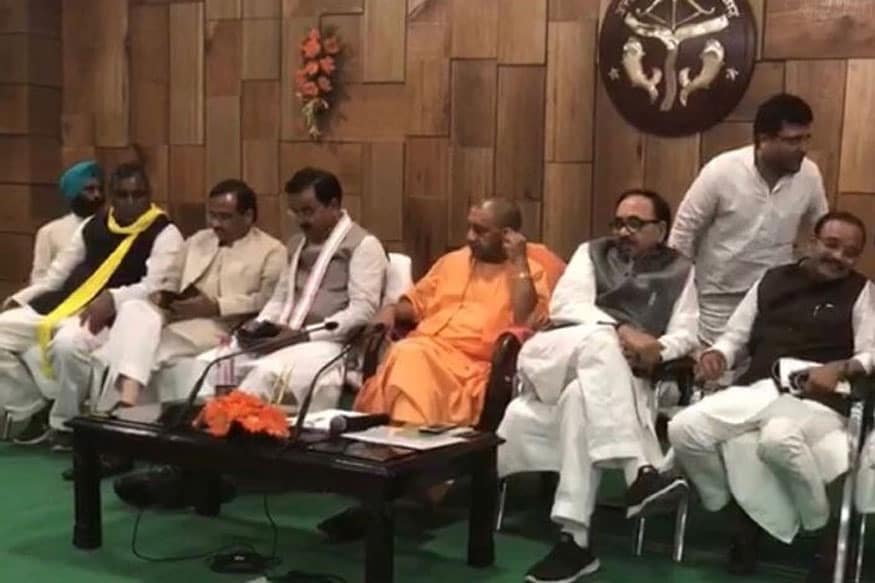 SP MLA Nitin Agrawal Picks Yogi Adityanath Over Akhilesh Yadav For RS Poll Strategy Meet
Lucknow: Samajwadi Party MLA Nitin Agrawal missed a meeting called by Akhilesh Yadav and instead attended one convened by Uttar Pradesh chief minister Yogi Adityanath to discuss strategy for the upcoming Rajya Sabha polls.

Nitin, an MLA from Hardoi constituency, is the son of former SP leader Naresh Agrawal, who joined the BJP after being denied a ticket to the Upper House by Akhilesh Yadav. At the time of his joining, Naresh Agrawal had said that his son would vote for the BJP candidate in the RS polls.

The elections will be held on Friday. The BJP is assured of eight out of 10 seats but it has fielded a ninth candidate. To send a candidate to the Rajya Sabha, a party needs 37 MLA votes. The BJP will have at least 28 surplus votes after it secures the eight seats.

According to sources, CM Yogi Adityanath is himself spearheading the election strategy. The chief BJP ally Suheldev Bhartiya Samaj Party, whose four votes will be crucial in the election, was also present in the meeting after the saffron party was successful in mollifying it. Om Prakash Rajbhar had skipped the one-year bash for Yogi Government, saying there was nothing to celebrate.

The BJP said it is confident of giving a fight for the ninth seat. The SP and the BSP also appeared assured that they would win one each of the remaining two seats. The SP has fielded Jaya Bachchan and the BSP Bhimrao Ambedkar.

"We know how to contest polls. Our candidate is winning and we are also going to ensure victory of the other (BSP) candidate," senior SP leader and MLA Parasnath Yadav told reporters.

SP has 47 MLAs in the Uttar Pradesh Assembly, of whom Nitin Agarwal is expected to vote for the BJP.

Apart from Nitin Agrawal, another SP MLA missing from Wednesday's meeting was Shivpal Yadav. Sources close to Shivpal Yadav said he was in Etawah. Senior party leader Azam Khan, his son Abdullah Azam, Hariom (lodged in jail) were also absent from the meeting.

Party leaders, however, asserted that they were firmly within the SP fold and expressed confidence that their candidates would emerge victorious in the Rajya Sabha polls.