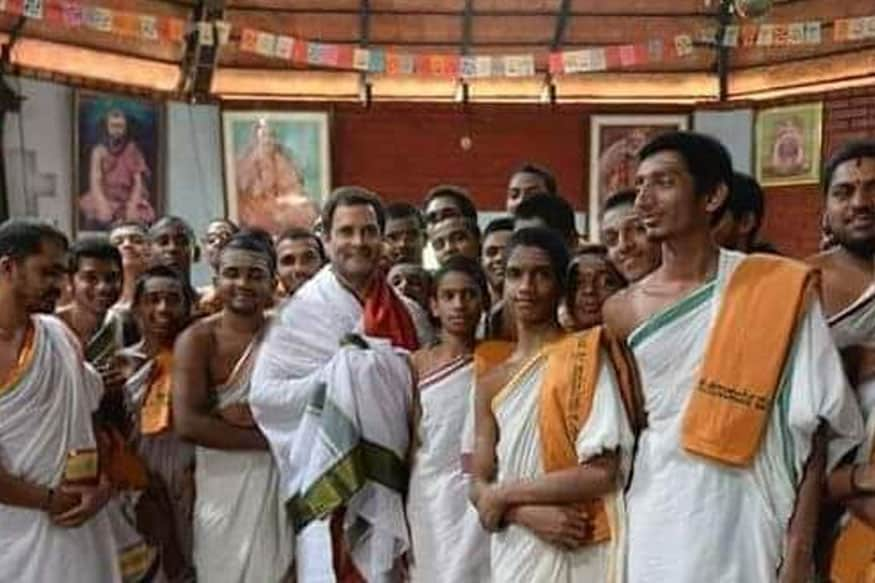 PM Modi Talks About Removing Corruption While Sharing Stage With Jailed Leaders, Says Rahul Gandhi
Chikkamagaluru (Karnataka): Congress president Rahul Gandhi today asserted the Modi government would not win the 2019 Lok Sabha polls as he charged the Prime Minister with not understanding the true meaning of 'Dharma.'

He also that the Congress would win the coming assembly polls in Karnataka "with a bang".

"Four years of Modi's rule has gone by and he had made big speeches. There is only a year left for his rule and I would like to tell party workers that the same kind of rule is going to continue and Modi is going to lose the next election," he said.

Addressing a public meeting here, Gandhi continued to keep Modi as the focal point of his attack during the second day of his latest tour of poll-bound Karnataka, asserting Congress would win the assembly polls.

Attacking Modi, Gandhi said "when India looks at its Prime Minister, it wants to hear the truth and not speeches filled with hate." "It wants to hear speech of love and brotherhood, as they know without truth this country cannot go forward, and this is the foundation of Dharma," he said.

He also attacked Modi for naming BS Yeddyurappa the BJP's CM candidate in Karnataka. Without naming Yeddyurappa, Gandhi said Modi advocated a "zero corruption" policy but shared the stage with leaders who have been to prison.

"PM Modi comes here and talks about corruption but on the stage with him are sitting leaders who have been in jail on corruption charges, including the BJP CM candidate," he said.

The Congress president visited Sharada Peetham at Sringeri in Chikkamagaluru district, one of the four seats established by Adi Guru Shankaracharya in the eighth century and met Jagadguru Shankaracharya, Sri Bharati Tirtha Swamiji.

During his interaction with students of Rajiv Gandhi Sanskrit University at Sringeri Mutt, he cited a 14-year-old boy's reply to his query on Dharma.

"Replying to my question on the foundation of Dharma, a 14-year-old child told me Dharma means truth, Satyameva Jayate. The same was repeated by all the children there."

"During the interaction I felt it is a strange world... a 14-year-old child can understand the meaning of Dharma, but the Prime Minister does not understand Dharma," he said.

He said a Prime Minister "becomes successful only when his heart is filled with love and empathy, without which the country cannot be run."

Reiterating that India is what it is today due to the efforts of its people, Gandhi said "our Prime Minister does not agree to this." Attacking the Prime Minister, he sarcastically said "Everything was done by Narendra Modi...see in what sort of the world our PM lives."

Stating that he has seen several Prime Ministers like Vajpayee, Indira Gandhi, Rajiv Gandhi and Narasimha Rao, Gandhi said, "India's Prime Minister can be successful only when he has compassion in his heart."

He said when Vajpayee was leader of the opposition, he respected the people of India. Gandhi said Vajpayee never in his speeches (while he was Prime Minister) said that "before him nothing happened in India."

Gandhi also recalled his grandmother Indira Gandhi's association with Chikkamagaluru from where she had won the Lok Sabha by-polls in 1978. "Whatever Indira Gandhi did for the poor and weaker sections of India is because of the strength you gave her," he said.

Stating that his thinking was like that of her, Gandhi said, "The strength that you willgive me... I will use that strength to change the lives of India's poor and weaker sections."