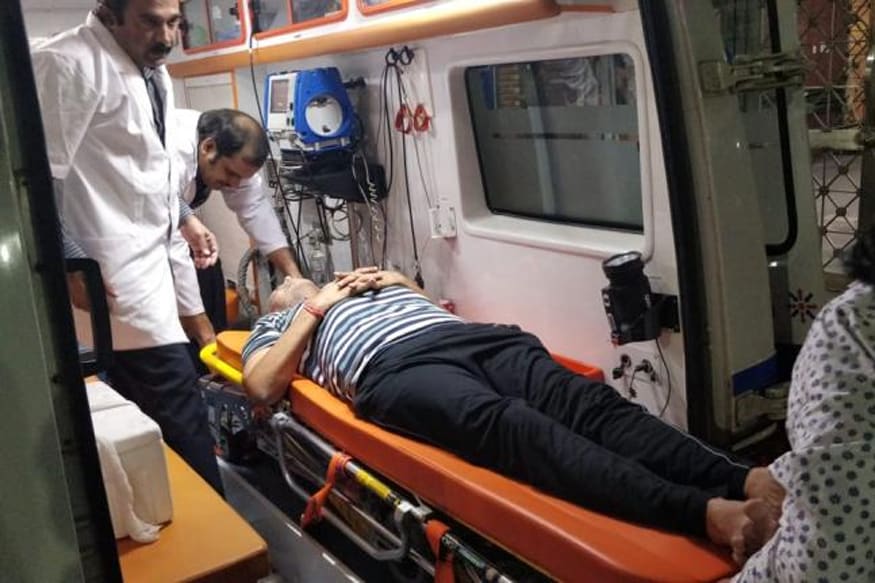 On Day 7 of Delhi Deadlock, Minister Satyendar Jain Hospitalised
New Delhi:
Delhi minister Satyendar Jain, who has been on an indefinite hunger strike for the past six days at the Lieutenant Governor's office, was rushed to a city hospital late on Sunday night as his health deteriorated.
Good morning Delhi

Last nite, Satinder Jain's ketone levels increased n he complained of headache, bodyache, difficulty in breathing n difficulty in passing urine. So, he had to be shifted to hospital. Now, he is doing well.

It is 6th day of Mansh's fast. He is doing well

— Arvind Kejriwal (@ArvindKejriwal) 18 June 2018
The health minister was taken to the LNJP Hospital, officials said. Kejriwal, who seemed to have softened his stand towards the "striking" IAS officers, confirmed that his colleague had been hospitalised.
Jain's health summary on Sunday morning showed that his sugar level was 64 units (mg/dL) and ketone level in urine was "large". The blood pressure level was 96/68 and he weighed 78.5 kg, sources said.
Jain had gone on strike on Tuesday, and his sugar level further dipped on Sunday, even as he asserted that the AAP government will continue to fight for people of the city.
Kejriwal, his deputy Manish Sisodia, Jain and Gopal Rai have been camping at the L-G's office, demanding that Lieutenant Governor Anil Baijal direct IAS officers to end their "strike" and approve doorstep ration delivery scheme.
As several IAS officers came together on Sunday to level counter allegations against the Delhi government, Kejriwal assured them that he would ensure security for the bureaucrats as they are his "family".
In a tweet, the Delhi chief minister said, "I wish to assure them that I will ensure their safety and security with all powers and resources available at my command. It is my duty. I have given similar assurances earlier also to many officers who have been meeting me privately. I reiterate it today. The officers are a part of my family."
Requesting the IAS officers to return to work, Kejriwal added, "I would urge them to stop the boycott of elected govt, return to work now and start attending all meetings of Ministers, respond to their calls and messages and join them for their field inspections.They should work without fear and pressure. They should not come under any pressure from any sources, weather state govt or central govt or any political party."​