Politics
Groundnut Procurement Scam: Congress Stages Dharna, Alleges Many Top BJP Leaders Involved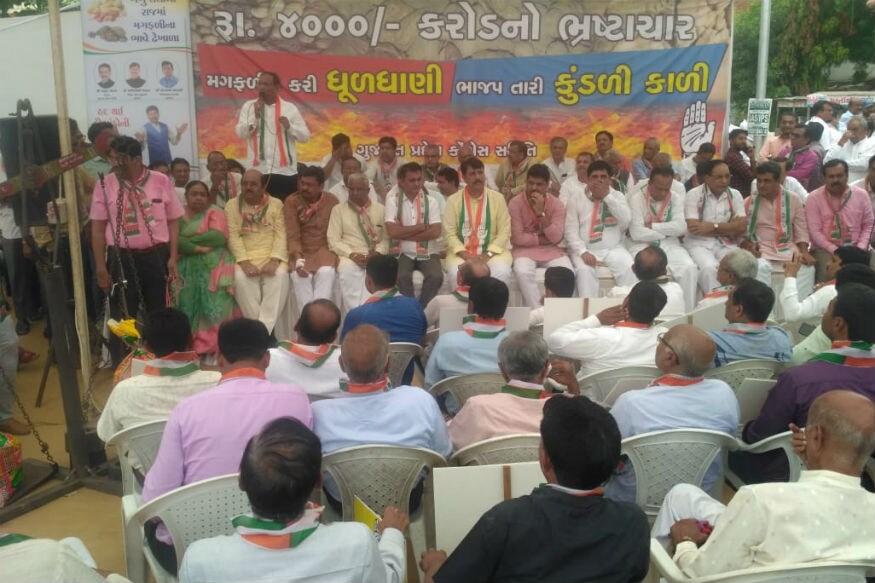 Ahmedabad: After days of protests at various places in Saurashtra against the Rs 4000 crore groundnut procurement scam, the Congress party organised a dharna in Ahmedabad on Tuesday, reiterating its demand to get the scam probed by a sitting judge of the Gujarat High Court.

The top leadership of the state Congress party, along with AICC Gujarat in-charge Rajeev Satav, participated in the dharna at Subhash Bridge area of Ahmedabad. The dharna caps off protests that were organised in district headquarters by the party a day earlier on Monday.

The Congress yet again alleged that investigation of the groundnut procurement scam was not being handed over to a sitting judge of the Gujarat High Court because bigger leaders of the party might be involved in the scam.

"If the BJP has nothing to hide, why is our demand not being met," asked Paresh Dhanani, leader of opposition in the Gujarat Assembly. Congress' Rajeev Satav said that the groundnut procurement scam is just one of the many scams that have taken place in Gujarat under the BJP rule.

Meanwhile, in Gandhinagar, state agriculture minister RC Faldu said that the Congress is attempting to score political points under the pretext of rights of farmers. "The investigation by police in the groundnut issue is on track and 30 persons have been arrested so far. The state government has sent a detailed report of the matter to the union agriculture ministry as well."

Meanwhile, the Congress looked to negate the absence of senior OBC leader Kunvarji Bavaliya in Saurashtra ahead of the 2019 general elections by winning over two BJP leaders from Saurashtra on Tuesday. Shamji Chauhan, former BJP MLA from Chotila, and Ashok Dangar, former mayor of Rajkot city, were inducted into the party at the Rajiv Gandhi Bhavan in Ahmedabad in the presence of AICC secretary and MP Rajeev Satav.

Over 300 of their supporters, which include members of zilla and taluka panchayat committees, also joined the Congress on Tuesday.

The BJP, not to be left behind, announced that two Congress leaders from Banaskantha district in North Gujarat have joined the BJP. Banaskantha district panchayat member Balkrishna Jirala joined the BJP at the party headquarters at Kamalam near Gandhinagar along with his supporters. Congress district general secretary Haresh Joshi from Banaskantha also joined the BJP along with his supporters.

Shamji Chauhan, who is the frontrunner to contest the Jasdan Assembly seat by election after Bavaliya quit and joined the BJP, said, "Whether Kunvarji Bavaliya contests this seat or someone else does, I will ensure that the BJP cannot win this seat when the by election happens." When asked whether he was a frontrunner for the seat, he said he was a foot soldier of the Congress and would do whatever the Congress asks him to.