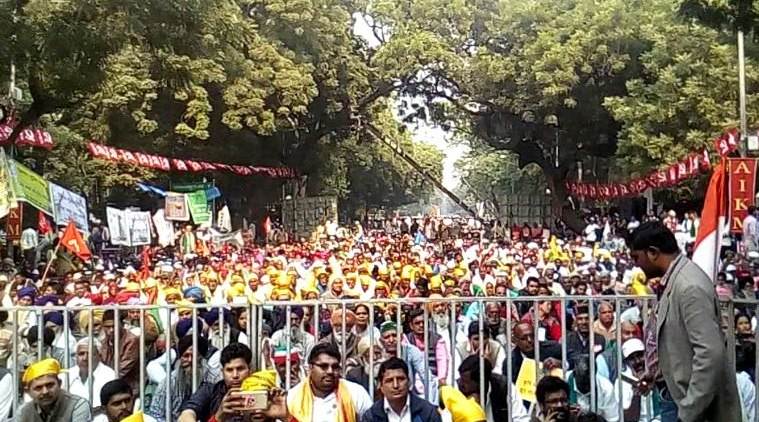 Farmer protest Day II: Agrarian crisis is policy, politics driven, says Yogendra Yadav
Swaraj Abhiyan leader Yogendra Yadav on Tuesday said the "prevailing agrarian crisis in the country is not by accident but is policy and politics driven". Speaking to indianexpress.com during a farmers' protest in the national capital, Yadav said, "We are witnessing a crisis which is built into our agrarian policy because our policies have been oriented towards production and not towards producer. Every year we come and say that production has gone up but we never say what has happened to the producer."
He underlined that the country's agrarian policies are an attempt to replicate a model of agriculture that was formed in a different land, in a different historical and economic situation. "They are not meant or suited for our conditions. There is no doubt that the present crisis is policy driven… it is also politics driven because there is a lack of political will to do anything about the farmer. In a sense what the farmers are questioning is policy and politics underlying the systematic neglect of the farmers," added Yadav.
The Swaraj Abhiyan leader is spearheading a protest of farmers from various states like Gujarat, Rajasthan, Punjab, Maharashtra, Tamil Nadu, Uttar Pradesh and Telangana who have converged in New Delhi's Parliament Street since Monday.
The protesting farmers are demanding implementation of Swaminathan Committee's recommendations, lower input costs, farm loan waiver and fair price for farm produce among other things.
Besides Yadav, social activist Medha Patkar and CPI national secretary Atul Kumar Anjan are also participating in the protest.
On  the implementation of the recommendations of the Swaminathan Committee, CPI leader Atul Kumar Anjan said: "Even if the recommendations are fully implemented, only 60-70 per cent of the problems being faced by farmers will be addressed because ever since the Commission's recommendations were made, the market forces have become more aggressive. At the same time, the government has given more rights to the market forces to determine the cost of the agricultural produce and to intervene in the rural markets. It should be investigated that how the market forces can be minimised in the interest of the farmer."
Medha Patkar, while talking about the possible solutions for the agrarian crisis, said: "There needs to be a re-evaluation of the value of the farmers' labour so as to solve the issue of disparity between machine- based products that are coming out through mass production and the human and nature based products which are produced by the masses."
The social activist agreed that the current crisis in agriculture is driven by policy rather than natural factors or accident.
"Corporations are ruling this country, they want to snatch away the land. But unless farming becomes a losing enterprise for the farmers, the corporates cannot take the land. No one will leave their land. Even now, farmers are not ready to give away their lands. They are becoming more and more aware," added Patkar.
While addressing the farmers' gathering, Yogendra Yadav announced that a 'Kisan Mukti Andolan' will commence on November 26 (the day India's constitution was drafted) and will stretch till January 26 i.e. Republic Day. He also declared that All India Kisan Sabha(AIKS) will not allow even a single gunny bag of crop produce to be sold below the Minimum Support Price (MSP) during the 'Kisan Andolan'.