Politics
Delhi Election Result 2020 LIVE Updates: Arvind Kejriwal's Third Term as CM in Bag, AAP Lets Out National Ambitions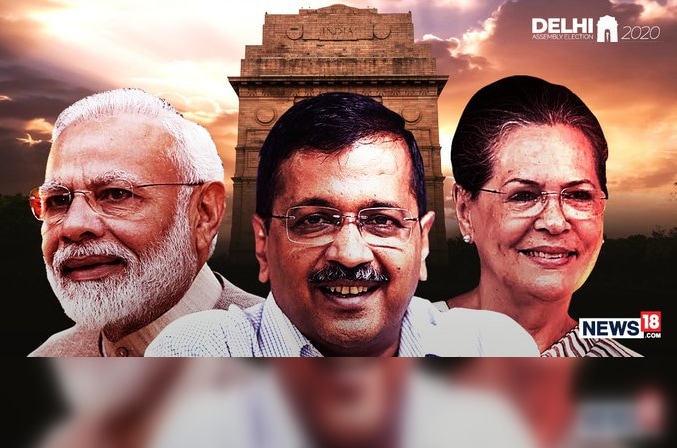 The Delhi assembly election result will determine the AAP's future and whether Arvind Kejriwal will be able to renew his ambition of making it a national party. With the
Delhi election result
proving exit polls largely right and with the broom sweeping Delhi again, it is a major filip for the goal. All Delhi exit poll results had been unanimous that Arvind Kejriwal would return as Delhi chief minister for the third time and the AAP would romp home to victory, at the very least by a two-thirds majority. The predictions had differed only in terms of the margin of victory.
For constituency-wise live results of Delhi election .
The election, largely seen as a battle between the ruling Aam Aadmi Party and the BJP, which went aggressive during the high-octane campaign, was held on Saturday, sealing the fate of 672 candidates —593 men and 79 women.
Click
here
to check out how key candidates are faring as counting of votes progresses.
Nearly 24 hours after the polling ended in Delhi, the Election Commission on Sunday announced that the final voter turnout was 62.59 per cent, five per cent less than 2015, and asserted that it followed the laid down process to compile data, after the AAP questioned the "delay".
Counting centres are spread across 21 locations in 11 districts, including at the CWG Sports Complex in east Delhi, NSIT Dwarka in west Delhi, Meerabai Institute of Technology and G B Pant Institute of Technology in southeast Delhi, Sir CV Raman ITI, Dheerpur in central Delhi, and Rajiv Gandhi Stadium in Bawana in north Delhi.
The assembly elections were held on February 8. A total of 672 candidates, including 593 men and 79 women, were in the fray for the hotly contested, often divisive polls with the anti-CAA protests in Shaheen Bagh occupying centrestage towards the end of the campaign.
While the AAP, of course, put forward Arvind Kejriwal, Prime Minister Narendra Modi, Home Minister Amit Shah and Uttar Pradesh Chief Minister Yogi Adityanath were among those who extensively campaigned for the BJP.
The Congress, still recovering maybe from the death of its three-time Delhi chief minister Sheila Dikshit in July last year, got into campaign mode much later. Former prime minister Manmohan Singh and party leaders Rahul Gandhi and Priyanka Gandhi were among those who campaigned for the Congress.