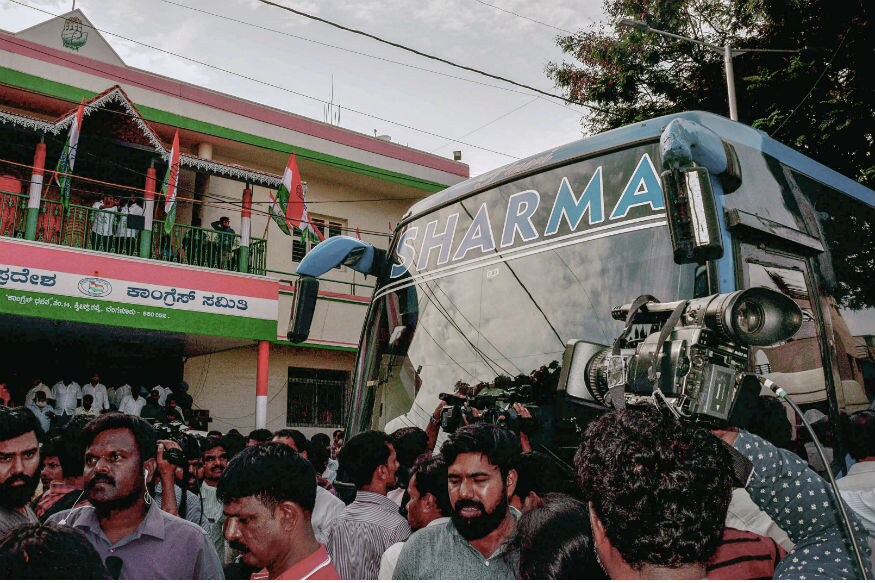 Curious Case of Sharma Bus Ferrying Congress and JD MLAs
Bengaluru: In the Karnataka cliffhanger where one MLA switching sides could make or mar government formation, political parties are taking no chances. The eye for detail and meticulous planning is evident in the choice of the travel services selected to ferry MLAs before the floor test.

For politicians of every hue there is premium on loyalty. Even in the choice of the bus service deployed to ferry MLAs, the Congress and JD(S) leaders have fallen back upon people with impeccable track record and loyalty to the party.

The Congress has delegated the duty of transport of their MLAs to their long-time loyalist late D P Sharma's bus services. The Congress and the JD(S) MLAs are travelling only in Sharma buses.

Hailing from Rajasthan, Sharma was active in party circles in 1980s in South Bengaluru before real estate started churning money. He also contested elections for South Bengaluru Lok Sabha seat in 1998 on a Congress ticket. He lost out to Union Parliamentary Affairs Minister Ananth Kumar by more than 1.5 lakh votes.

In the central Congress leadership. Sharma was known for his close proximity with former Prime Ministers PV Narasimha Rao, Indira Gandhi and Rajiv Gandhi.

Dhanraj Parasmal Sharma passed away in 2001.

Sharma Transports facilitates passenger commutation as well as cargo services across major cities in South India. The company has been instrumental in the introduction of Lexia and Volvo bus services in India.

The bus services being used by the Congress to save its MLAs from being poached is now run by Sharma son's Sunil Kumar Sharma.

The buses offer services from Bangalore to various cities such as Mumbai, Pune, Ahmedabad, Mumbai, Hyderabad, Chennai, Goa, Pondicherry, Ernakulam etc.


Though the BJP emerged as the single largest party in Karnataka with 104 seats, it could not cross the halfway mark. JD(S) and Congress on the other hand stitched together 116 seats. Therefore, as a matter of precaution from horse-trading,

Governor Vajubhai Vala administered the oath to B S Yeddyurappa on Thursday.

In a rare pre-dawn hearing on Thursday, Supreme Court refused to stop Yeddyurappa's swearing-in as Karnataka Chief Minister. The apex court has posted the matter for hearing on Friday.