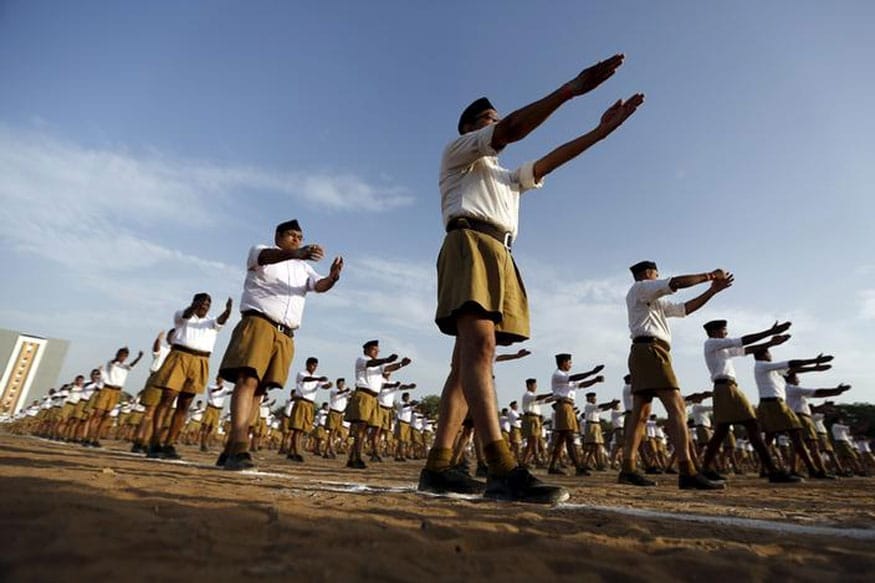 Congress Vows to Put a Cap on RSS in MP, BJP Calls the Move 'Malicious'
Bhopal: Congress's proposed ban on use of government property for RSS-related activities and its promise to revoke MP government's order of allowing workers to attend shakha meetings has drawn flak from BJP.

Among the 973 promises made in the manifesto is one that says party will put a ban on use of government buildings for RSS meetings and a relaxation earlier extended to the government staffers for taking part in RSS activities will be revoked.

Irked by the move, BJP national spokesperson Sambit Patra on Sunday said that the Congress would neither let the temple (Ram temple) be built nor allow RSS shakhas to take place. Patra also referred to an old statement of Rahul Gandhi and said the Congress chief had called urban naxals 'revolutionaries'.

"Congress always spreads malicious slander among minorities and other communities against the RSS," BJP spokesperson Rajnish Agrawal said, adding that Rahul Gandhi visits places where anti-India slogans are raised.

Calling Congress manifesto a 'Pravachan Patra' (preaching document ), senior BJP leader Hitesh Vajpayee said the proposal to ban the RSS shows that Congress is unnerved. "The ploy to appease minorities would prove dear to 'Shivbhakt' Rahul Gandhi," Vajpayee said, referring to party's campaign posters in MP that declared Gandhi a Shiv bhakt and showed him pouring water on the Shivalinga.

But the Congress defended its move with vigour. "BJP wants government staffers to queue up in RSS shakhas against their wishes and the Congress wants them to remain seated in their offices so that the public doesn't have to queue up in government offices. Different parties have different priorities," tweeted MPCC president Kamal Nath.

However, Congress spokesperson Priyanka Chaturvedi said the manifesto does not intend to ban the RSS, it only aims at disallowing government staffers participation in the shakhas. "We want the government staff to fulfill its obligations towards the country and constitution," Chaturvedi said.

"Neither the states nor the Centre has lifted the ban on government staff participating in RSS activities," said Bhupendra Gupta, Congress Ideation Cell in-charge. He cited example of the RSS-affiliate organization Seva Bharti which according to him makes students in tribal belts take part in its camps and turns government teachers into cooks for these camps.