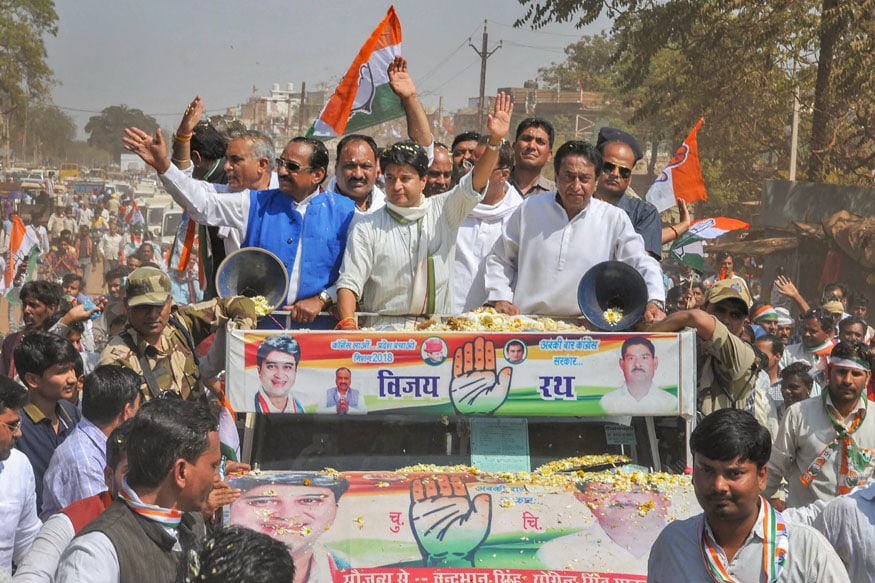 Congress Gets Some Respite from its 'Problem of Plenty' in MP
New Delhi: The Congress may have finally zeroed in on a face to take on Chief Minister Shivraj Singh Chouhan in Madhya Pradesh — nine-time Chhindwara MP and former Union minister Kamal Nath.

Sources said the choice of Kamal Nath has garnered support from ex-CM Digvijaya Singh, who until recently was seen as a potential challenger. Upon his return from the 3,300-km Narmada Parikrama, Singh said that he was not in the race for the CM's post.

"I don't want to be CM but I am ready to unseat the BJP if the High Command allows," he said, indicating that he nevertheless wants to remain in the thick of state politics.

Party sources added that Singh had a plan at the ready for Assembly elections later this year, but would "only share it with party president Rahul Gandhi".

Singh's support for Kamal Nath solves the Congress' 'problem of plenty' to some extent. Its three most high-profile faces in the state — Kamal Nath, Digvijaya Singh and Jyotiraditya Scindia — had been at loggerheads for some time.

With Singh seemingly bowing out, the race is between Nath and Scindia.

While Scindia was made the Campaign Committee head, thereby sending the message that he was the party face, some factors may work against him.

Sources said the top leadership is worried whether the young leader's charisma can match up to the Shivraj Singh Chouhan's 'son of the soil' image. Chouhan is known for his excellent connect with the people, Scindia is seen as a 'raja', owing to his royal heritage.

Kamal Nath, known for his shrewd manoeuvring skills, may come in handy against Chouhan, given his strong connect with the CM's critics. His negotiating and strategising skills were seen during his tenure as the Parliamentary Affairs Ministers in the UPA era.