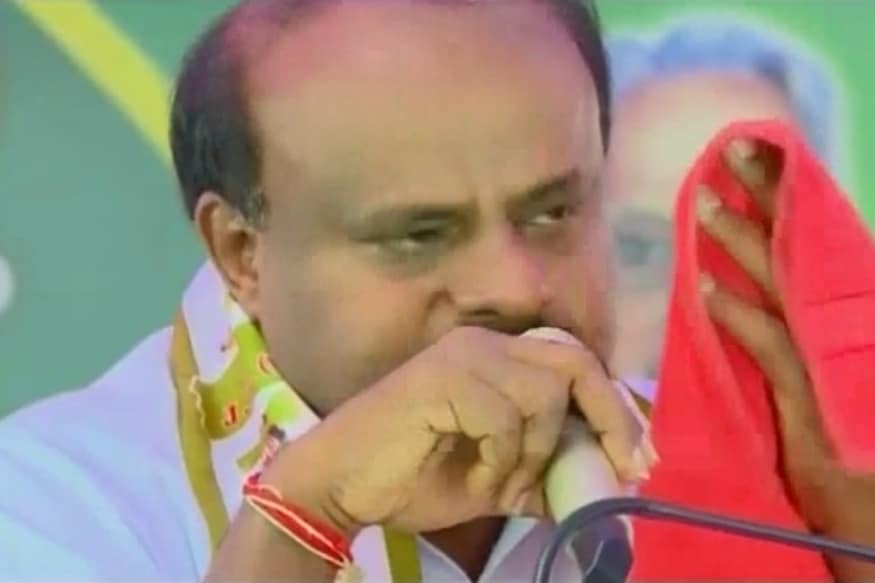 CM Kumaraswamy Breaks Down at Bengaluru Event, Says 'I Know Pain of Coalition Govt'
Bengaluru:
All does not seem well in the JD(S)-Congress coalition in Karnataka despite the show of bonhomie put up by Chief Minister HD Kumaraswamy and predecessor Siddaramaiah a few days ago at the Vidhan Soudha.
Addressing an event in Bengaluru on Saturday, the Chief Minister broke down and talked of the "pain of a coalition government". "You are standing with bouquets to wish me as one of your brothers became the CM. You all are happy, but I'm not. I know the pain of coalition government. I became Vishkanth and swallowed the pain of this government," he said.
Despite rumblings of discontent over portfolio allocation and budget proposals, both parties have maintained that the coalition government would complete the full tenure.
The most recent flashpoint was when Siddaramaiah objected to the move to reduce rice entitlement under the Anna Bhagya scheme from 7 kg to 5 kg. The subsidised rice scheme was one of the flagship programmes of the Siddaramaiah government.
: Karnataka CM HD Kumaraswamy breaks down at an event in Bengaluru; says 'You are standing with bouquets to wish me, as one of your brother became CM & you all are happy, but I'm not. I know the pain of coalition govt. I became Vishkanth&swallowed pain of this govt' (14.07) pic.twitter.com/cQ8f90KkFT

— ANI (@ANI) July 15, 2018
"For the last one month, nobody knows the jugglery I've been doing to convince officials to agree to the (farm) loan waiver. Now, they want 7kg rice instead of 5kg rice under the Anna Bhagya scheme. From where should I get Rs 2,500 crore for this? I'm being criticised for levying taxes…. If I wish, within two hours I can step down from the office," a report in Times of India quoted him as saying.
Sensing an opportunity to capitalise on the alleged rift, BJP social media in-charge Amit Malviya said Kumaraswamy was unlikely to give up the CM's chair despite being "humiliated" by the Congress.
Congress is humiliating Kumaraswamy every day but he is not the one to give up Chief Minister's chair. https://t.co/7M6qeT99rw pic.twitter.com/gDHeoUrhHQ

— Amit Malviya (@amitmalviya) July 15, 2018