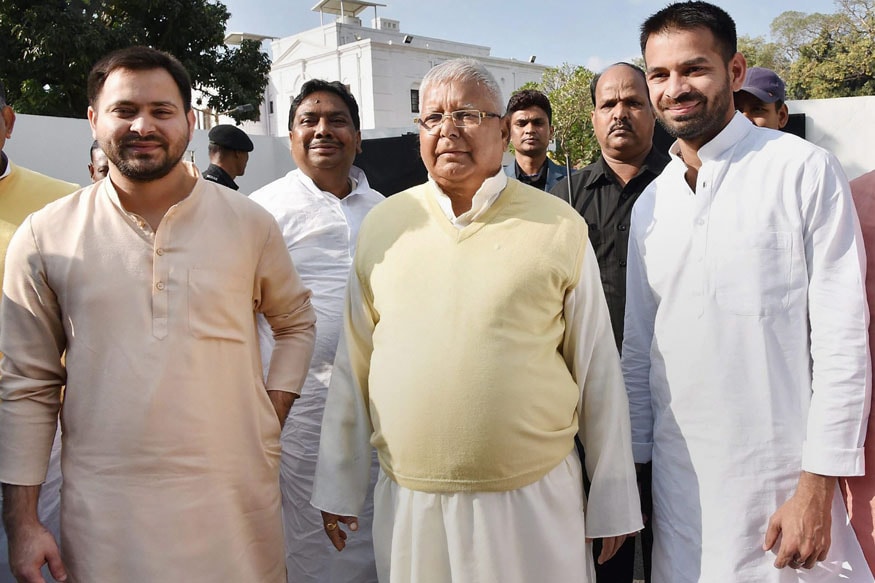 As Tejashwi Grows in RJD, Lalu's Elder Son Tej Pratap Accuses Brother of Sidelining Him in Party
Patna: In a dramatic turn of events, Lalu Prasad Yadav's elder son and former Bihar Deputy CM Tej Pratap Yadav on Saturday warned his brother Tejashwi against outsiders trying to create differences between them apart from accusing his younger brother of trying to sideline him in the party.

Tej Pratap said, "We all do politics. But the kind of politics that is being played in RJD right now is extremely saddening. There are certain anti-social elements who have entered the party and are trying to ruin the party."

The sensational development comes as Lalu Prasad Yadav continues to remain in jail after being convicted in the fodder scam case.

Tej Pratap further alleged that Tejashwi has allowed anti-social elements in the party who are trying to create rift between the brothers.

He said, "People like Rajendra Paswan have toiled for us. After I asked Lalu Ji, Rabri Ji and Tejashwi to give him a party position, only then was it done. Why was it done so late?"

"They are using Tejashwi's name and my name to create differences between us but I will still say that I love him as he is my brother." However, he also accused his younger brother of not taking his calls whenever he tries to reach out to him.

Soon after the news started doing the rounds, Tej Pratap issued a clarification on Twitter saying, "Tejashwi is the apple of my eyes. Don't try to create differences between us by spreading these rumours."

As Tejashwi continues to grow as the heir apparent of Lalu Prasad in the RJD fold, it seems to have touched a wrong nerve with Tej Pratap who earlier held the Deputy CM's post when RJD was still in the government along with Nitish Kumar.

The internal differences in the single largest party in the state are bound to make BJP and JD(U) use this as a political tool ahead of the 2019 elections.