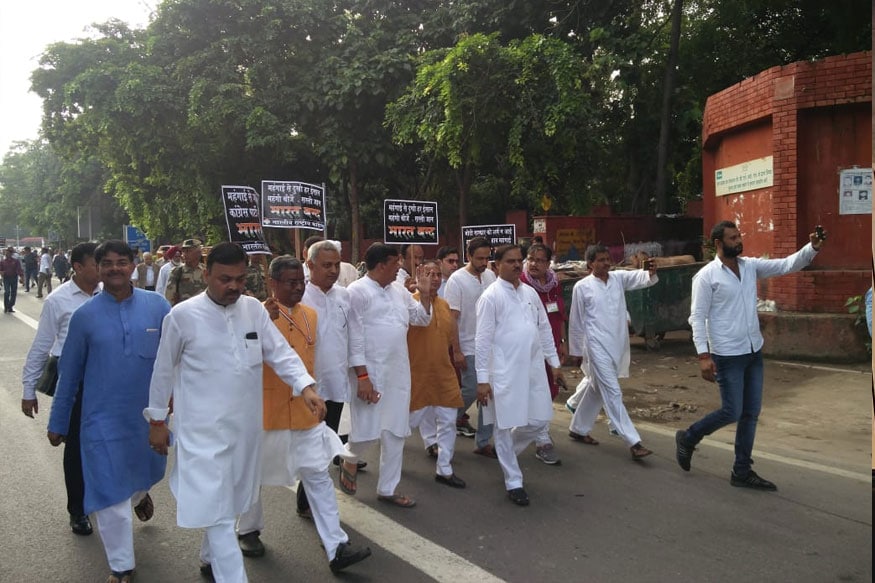 AAP says its participation in Bharat Bandh not support to Congress
New Delhi: Delhi's ruling Aam Aadmi Party Monday joined the 'Bharat Bandh' against rising fuel prices, but said its "in-principle" participation in the protest against Modi government's "anti-people" policies should not been seen as support to the Congress.

Senior AAP leader and Rajya Sabha MP Sanjay Singh participated in the Congress protest at Rajghat. Other party leaders, including Atishi Marlena, attended a protest at Jantar Mantar.

Singh said AAP believes all political parties should unite on issues of national interest.

The AAP said in a statement that all opposition parties must unite and force the Modi government to reverse its "anti-people policies which are solely responsible" for price rise, particularly the unprecedented rise in prices of petrol and diesel.

"However, the Congress cannot be the umbrella under which all opposition parties are comfortable. Congress has to shun its big brother and unreasonable attitude towards other parties," it said.

No political party in India is "subservient" to Congress and it must bear this in mind.

The party extended its "in-principle" support to the protest against rising prices of petrol, diesel and LPG.

"However, this should not be in any manner seen as support for the Congress," the AAP said.

The AAP and the Congress have often traded charges over local issues with both the parties hitting at one another on matters of health, education, transport and supply of water and electricity.

There were speculations about an alliance between the two parties in Lok Sabha elections in 2019 but AAP chief and Delhi Chief Minister Arvind Kejriwal has categorically rejected his party's participation in any coalition before the polls.

"Our party will not be a part of any alliance in 2019," he said in Rohtak last month.