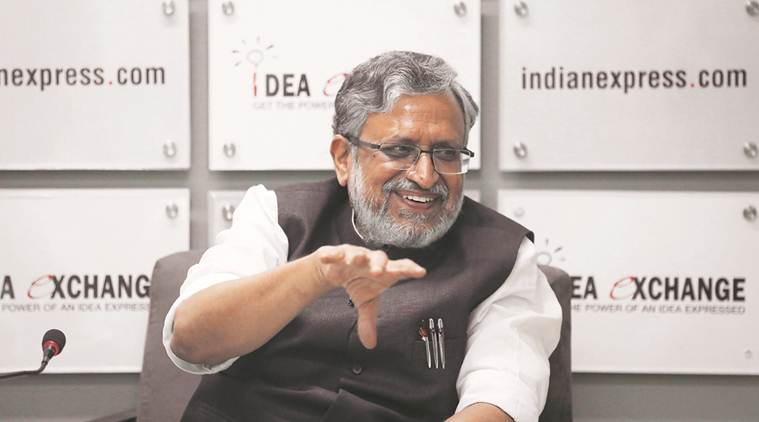 Sushil Kumar Modi's WhatsApp wedding invite electrifies Bihar
Bihar deputy chief minister and senior BJP leader Sushil Kumar Modi has stolen a march on all his colleagues, both current and former, by inviting guests to his son's wedding today in Patna on WhatsApp and email.
At least in Bihar, where ostentation is as much part of a wedding as is the joy and festivity associated with the celebration, Modi's austerity measures have raised several eyebrows. But the raised eyebrows have also made people sit up and take notice of his austerity measures.
And then there was the personal touch. Modi or a member of his staff called each invitee – remember, the virtual marriage invitation card for Utkarsh Weds Yamini, a Kolkata-based chartered accountant, had already been sent on email and WhatsApp – to confirm attendance and to remind them that no hard copy of a card had been sent.
The whole exercise has not only confirmed Sushil Modi's top position in the Bihar social media universe, it has once again brought out the comparison between him and his former opponent-turned-compatriot, Bihar chief minister Nitish Kumar. Remember that Nitish first grabbed attention by raising the pitch on dowry-less marriages, an invocation of his own Socialist past.
Sushil Modi's e-card for his son's wedding had a similar social message at the bottom. "No dowry is taken for this marriage," it said, an affirmation of his own credentials, but also a subtle message to his own chief minister that he isn't the only one with the prerogative to think or follow through on the Gandhian maxim.
So the wedding guest-list has been limited to about 1500. A day wedding is taking place. And at the end, a packet of 'prasad' is being promised.
Patna is agog with comparisons these days. We remember the lavish weddings former chief minister Lalu Prasad Yadav threw for his seven daughters, both in Patna and in Delhi. Certainly, Sushil Modi has stolen a march over not only his political rival, but against his own chief minister as well.
In fact, Modi has played it politically smart ever since Nitish returned to the NDA, stripped off his liberal credentials. He has played the perfect deputy, allowing Nitish Kumar to play the role of the self-appointed social reformer willing to roll with the dice for long-term survival. But with Sushil Modi snapping at his heels invoking similar maxims, Nitish Kumar's reputation of jumping political alliances for maximizing personal political survival has taken a big hit.
Modi, without saying much, is being seen as a much more rock-steady political leader who refuses to be blown away by the political wind.
The WhatsApp wedding invite of his son is not only a small example of his personal austerity, it speaks volumes of the man's simplicity. And as we know, especially in Bihar, all personal is political.
For the record, Sushil Modi's own marriage with Jessie George, a Syrian Christian Malayali woman in the early 1980s, had been equally austere. None other than senior BJP leader Atal Behari Vajpayee attended and had pointed out, poetically, that it was a perfect exemplar of the union of North and South India. "Himalyan ki nazar to hamesha Kanya Kumari par rahi hai (Himalayas always set its gaze on Kanya Kumari)," Vajpayee had then said, in his inimitable but memorable style.
As the wedding of Sushil Modi and Jessie George's son gets underway, the present gives way to the past. Who said nostalgia is not an inseparable part of politics?
Santosh Singh works with the Indian Express in Patna and tweets @santoshchitra
© IE Online Media Services Pvt Ltd