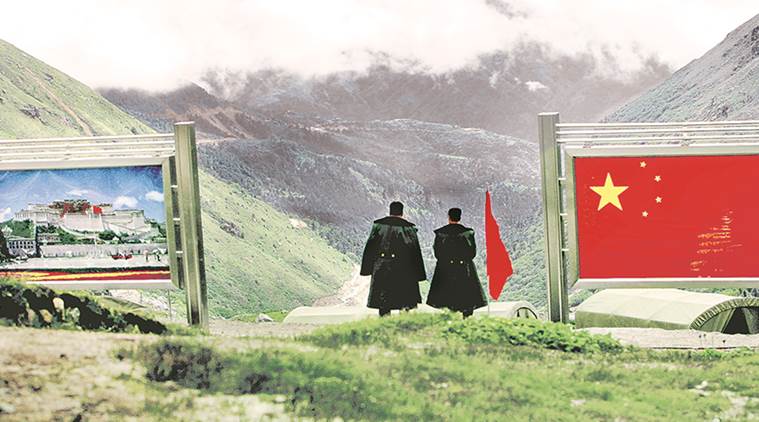 Sikkim standoff: India must counter aggressive China
The India China standoff at Doklam region is over a month old now with no sign of it ending anytime soon. The reason why the standoff becomes significant is because geographically the region is dangerously close to a tri-junction point between the three nations, namely India, China and Bhutan. Both India and Bhutan have objected to China building a road at a point which is claimed by Bhutan and is close to India's "Chicken's Neck" that connects the North-East to the rest of India.
The official spokesperson of the Chinese government has reiterated that no dialogue with India will take place until Delhi pulls back its military. With the PLA also making a strong statement on stepping up deployment of troops in the region, this is a challenge which India will have to address without losing its credibility in the region.
The media in China — which is the de facto mouthpiece of the government — is in overdrive in its aggressive posturing with new threats almost everyday, whereas the Indian government's stance has been lot more muted, never mind prime minister Narendra Modi's boasts during his election campaign. As the Chinese media gets more strident, India insists it is on the right side and the world is supporting it. The government maintains that this standoff can be resolved through dialogue just like in the past. This has been refuted by China's media too. India's NSA, Ajit Doval is also going to be travelling to China shortly. Whether his meetings in Beijing will lead to de-escalation needs to be seen.
Independent India inherited the animosity China's Qing dynasty had towards the British Empire. The hyper-nationalist People Republic of China's Communist government, wanting to set right perceived historical wrongs, has treated Delhi with the same suspicious attitude. Delhi has tried various confidence building measures with Beijing over the decades, which China sees as weakness. It seems as if Chinese president Xi Jinping wants to recreate the Middle Kingdom and wants India and other countries to kowtow to it; the fact that India isn't is leading to the current muscle-flexing.
As part of its pressure-building tactics China has halted access for Kailash Mansarovar pilgrims through the Nathu La pass. With this impasse India is now dealing with two precarious border crises at the same time (China and Pakistan).
In these volatile times, the situation is aggravated by the fact that since March, the Ministry of Defence has been under additional charge of finance Minister Arun Jaitley. The CAG report tabled in Parliament last week paints an extremely worrisome and alarming situation of India's defence preparedness in case of war. It stated that the ammunition stock of the Indian Army would be exhausted after 10 days of war. The CAG has scathingly added that the situation has not improved since 2013.
Considering China's unusual aggression at this time, this report could be damning for India and also provide a reality check for the nation. The other concern that CAG's report flagged was that India-China Border Roads (ICBR) works executed by the BRO (Border Roads Organisation) were suffering from delays, gaps in quality and financial issues and thus "did not adequately meet the user requirement."
The aggression from China could be because India is taking a stern position on China building an economic corridor through Pakistan-Occupied Kashmir. India also chose to boycott the OBOR event. It is absolutely imperative that India should not back off from its stance on Doklam or be bullied by China's aggression.
In fact, the government should recalibrate its position on this issue by not responding to China's provocation from China and not boasting about its own military strengths. The Indian media also needs to be reigned in and prevented from carrying out its war mongering debates. China has used psychological mind games to carry out its own agenda in Asia, it is time India counters it on this front.
Priyanka Chaturvedi is a spokesperson of the Congress party. She tweets @priyankac19
© IE Online Media Services Pvt Ltd