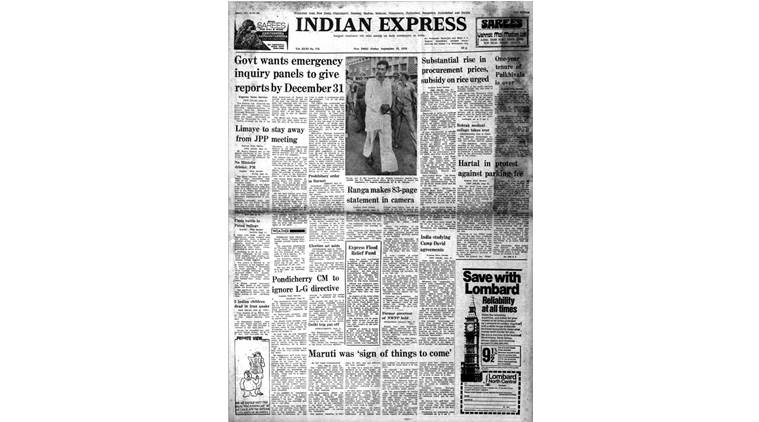 September 22, 1978, Forty Years Ago: Emergency Panels
Emergency Panels
The Centre has directed the state governments and Union Territory administrations to ensure that the Emergency Excesses Enquiry Authorities under their jurisdiction complete the tasks entrusted to them by December 31. Having extended the life of the Shah Commission of Inquiry for another three months till the end of the year, the government has suggested that the state authorities should submit their reports within this period directly to the Commission. The states and Union Territories have also been asked to extend term of the state authorities to make it co-terminus with the extended life of the Shah Commission.
Limaye Skips Meet
Madhu Limaye, one of the general secretaries of the Janata Party, whose critical letter to the PM is scheduled for discussion at the requisitioned meeting of the executive of the Janata Parliamentary Party, will not be present to give his viewpoint. Limaye has intimated the JPP secretariat that he would not attend the meeting as it had no jurisdiction to discuss the issue. Limaye's letter had raised the question of collection of election funds by Kantibhai Desai, son of the PM. The former home minister, Charan Singh, will attend the meeting, the first time the erstwhile BLD leader will participate in a party forum after his resignation from the cabinet.
Teetotallars All
Prime Minister Morarji Desai vouchsafed that none of his Cabinet colleagues consumes liquor. He said rumours to the effect were malicious. This came as a reply to a query by Prema Kantak, a senior Sarvodaya leader.
Camp David
Three days after the Camp David agreements were signed, New Delhi had a guarded reaction to the summit's outcome. An External Affairs Ministry spokesman said: "Every effort at a peaceful solution, which would lead to a comprehensive peace in this area, cannot but be commended." But, we did not commend Camp David specifically.