Opinion
September 11, 1978, Forty Years Ago: Cabinet Reshuffle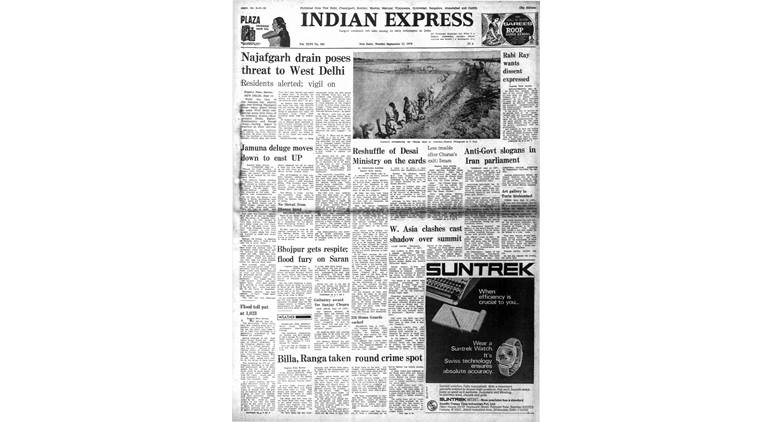 A reshuffle of the Union Council of Ministers is imminent. Not only is Prime Minister Morarji Desai expected to drop some of the deadwood in his ministerial team but he is also likely to shuffle the portfolios of some of his key ministers. Desai has been busy doing an exercise, as quietly as possible in these matters, ever since the end of the last Parliament session on how best to reorganise his Council of Ministers. The major snag holding the Cabinet changes so far is the home portfolio. Desai is likely to make his decision in the next few days. However, one thing is almost certain: The Home portfolio will not go Jagjivan Ram. Soon after the PM dropped Charan Singh and Raj Narain from his Cabinet, Jagjivan Ram was sounded but he had not shown keenness to take over Home.
Deluge On The Move
Though the flood situation in Uttar Pradesh improved the eastern districts continued to be ravaged by the rampaging Ganga. The Jamuna, though receding aat Mathura and Agra, has suddenly swelled in Etawah, where it three-and-a-half metres above the red mark. In the east, the Ganga is still rising in Ballia district, devastating large areas. About 400 villages are marooned in Ballia and in many villages, people are living on the trees. The Army and country boats are busy in relief and rescue operations
Crime Scene Tour
Crime Branch detectives continued their interrogation of the alleged killers of the Chopra children who were arrested at the Delhi Railwav Station. A senior crime branch officer said that both Billa and Ranga were today taken to Gole Dak Khana and Upper Ridge Road from where the bodies of Geeta and Sanjay were recovered The officer said that from Upper Ridge Road they were taken to the petrol station where the culprits had removed the blood stains from the Fiat car in which they had allegedly stabbed the children to death.