Out of my mind: Maha convergence
Looking at the current political scene, it is hard to believe that five years ago, the prospect of another BJP/NDA government was thought to be disturbing. This was more so as Narendra Modi was at the head of the BJP campaign. He smelled of fervent Hindutva ideology. India's secular polity, so highly regarded by many at home and abroad, was in danger. I recall National Conference leader Farooq Abdullah issuing an appeal to Lal Krishna Advani to save secular India from Modi lest he become prime minister. There were hopes that Modi would fail to deliver a majority and a mild secular leader would emerge to lead the NDA coalition.
Look at the situation now. No one talks anymore about secularism. Rahul Gandhi parades his Hindu credentials, stops by to worship at any and every temple. Muslims are forgotten since the Congress does not want to be seen to be as a pro-Muslim party. Indeed, not just the Congress.
BJP leaders may have incited their Parivar friends to destroy the Babri Masjid, but Rahul could claim (and maybe will any time soon) that the Congress has done more for Ram mandir than the BJP. The first idols were smuggled under locked gates defying court orders way back in 1949 while the Congress ruled in Uttar Pradesh and every state in India.
Then it was Rajiv Gandhi who let the 'Ram Lalla' be installed, which gave a fillip to the shilanyas. Thus whatever the BJP may say, Ram temple would be a Congress triumph! Expect Rahul Gandhi to say any day that while Modiji had promised a mandir, only the Congress can and will deliver it.
This bizarre convergence is the biggest success of the BJP. It controls the narrative and it is the only narrative in town. It may not be the nightmare we were all told in our young days it would be. The RSS has added to the confusing convergence by coming out in new moderate clothes. I expect RSS chief Mohan Bhagwat to say that his is the only truly secular establishment. He has already adopted the wider, more inclusive definition of Hindu. If a Hindu is anyone resident in the land of the Sindhu river, then quite rightly Indian Muslims are Hindus. The idea that there are Hindus separate from Muslims was first codified during the 1871 Census when Hindus were people professing something called Hinduism, a word which had not been used previously.
By the time Vir Savarkar came to write his essay on Hindutva in the 1920s, much water had flown under the bridge. He was appalled by Gandhi's support for the Khilafat movement. He saw it as the Congress being dragged into a struggle about the Muslim Holy Land, far away from the borders of India. So he invented an extra criterion for being a Hindu. You had to be not only born in the land of the Sindhu but your holy places had to be in the same land.
So Bhagwat has now wound the clock back to before the 1871 Census. We are all Hindus now. Given that, India is already a Hindu Rashtra.
Game, set and match.
More From Meghnad Desai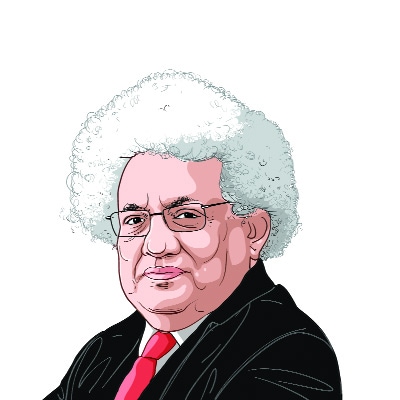 It is as if the only branch of government functioning to change society for better is the Judiciary. ..

Out of my mind: Rafale Recipe

HAL has never produced a fully domestically produced fighter plane. This was why India had MIGs prone to crashing. ..

Modi's future?

Narendra Modi's life in four parts of 17 years each, and the prospects of BJP/NDA in 2019...