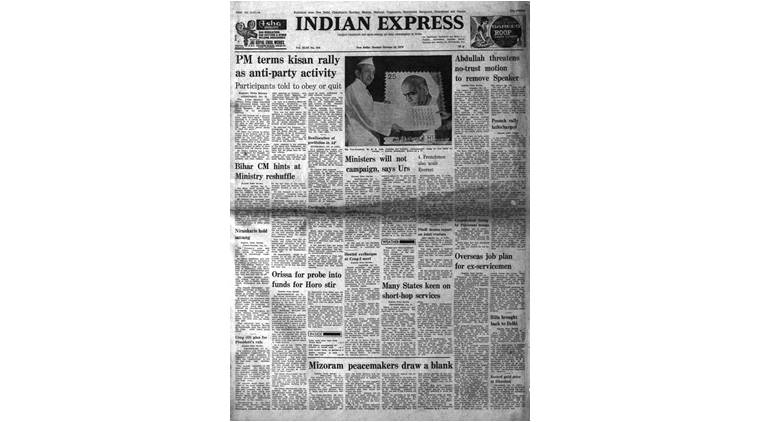 October 16, 1978, Forty Years Ago: PM on kisan rally
Prime Minister Morarji Desai described the proposed kisan rally in Delhi by the supporters of the former home minister, Charan Singh, as an anti-party activity. This was nothing but a political game. If party workers did not want to obey directives of the pradesh unit, they should either seek central party's advice or "quit the party". Desai's warning has a specific significance for Gujarat, his home state, where some Janata legislators had been holding farmers' meetings in collusion with the former chief minister, Chimanbhai Patel, and Dwarakadas Patel, Congress MP. Regarding the Chikmagalur by-election, Desai said the Janata Party was determined to defeat Indira Gandhi. That was the reason for selecting a formidable person like Veerendra Patil as the candidate and industries minister George Fernandes as the campaign manager, he said.
Indira campaign
Indira Gandhi will launch her election campaign on from Karkala, the western-most tip of Chikmagalur Lok Sabha constituency, Karnataka Chief Minister Devaraj Urs announced. Urs said all the ministers have been told not to visit the constituency without his permission. If permitted to do so, they should not use their official cars and other official paraphernalia. He said the joint meeting of the executive committees and the legislature party of the KPCC (I) had decided to request partymen outside the constituency not to take the trouble going to the constituency unless called for, because so many people converging on a small place would present serious problems.
No joint venture
Pakistan denied it has any proposal for setting up a fertiliser plant with Indian cooperation. Radio Pakistan quoted a Pakistan Commerce Ministry spokesman in Islamabad that there was "no such proposal" ever and the subject did not figure at recent talks between the two countries.